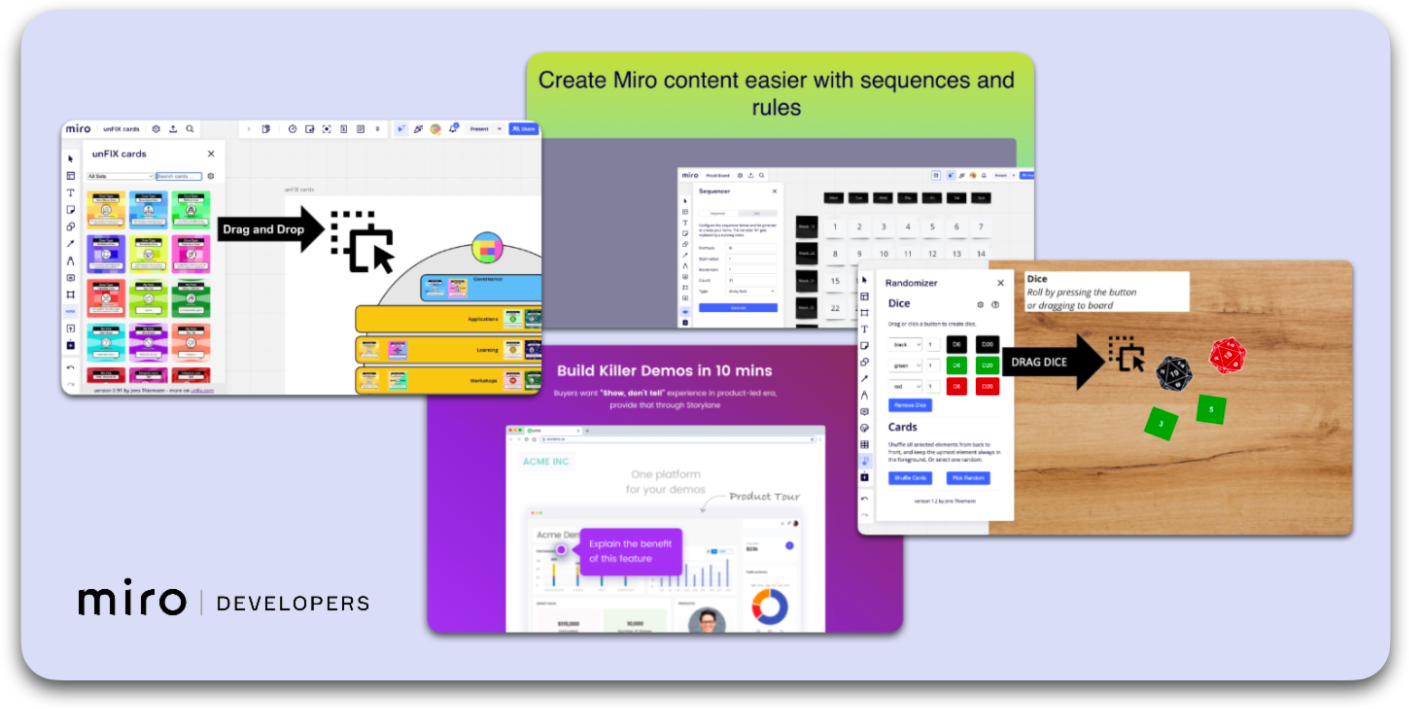 Four new apps to streamline your workflows
Last month we hosted our first official Miro Apps Marathon, which resulted in a number of amazing app submissions from our Miro Developer Community. This month, we're highlighting 4 apps that are already available on the Miro Marketplace.

unFIX Cards
by Jens Thiemann


Use cards from the unFIX model by dragging them to your board. Search the cards by name, card number, description, or card set. Modify the card size for search preview and dragged images. Read more about the unFIX model at unFIX.com.

Storylane
by Storylane
Storylane lets teams capture their product to create engaging demos and product tours, in minutes via our no-code editor. Think of it like a video but where you can actually interact and click-through within the video step-by-step.
Teams can embed Storylane tours directly by just pasting the URL onto their Miro boards. With this, Miro users can bring the power of interactive videos to project planning, explainers, prototypes and much more.
 
Sequencer
by NanoGiants

Create content easier with sequences and rules. In version 1.0.0 there are two modes namely sequencer and split.
Sequencer allows you to generate certain Items (e.g. Sticky Note, Text) based on some rules. Supply a start value and specify an increment and how many items you want. The sequencer will create the amount of items specified by `count` with the content specified in `formula`, where `$i` is replaced with the current index.
Split allows you to split the text of a given item (e.g. Sticky Note, Text) at a delimiter of your choice. You may also choose the type of the newly created items.
 
Randomizer
by Jens Thiemann


Randomizer will help everyone who needs some random elements like card or dice in Miro.
You may use it to facilitate any kind of workshop, or just for fun with friends to play card, board or role-playing games.

***

Interested in seeing more apps created by developers building on Miro's Platform? Check out our Marketplace!