Hi, I would like certain members of my team to have only access to certain projects. Now they all seems to see everything in the team. I work with 14 day pass editors. It would be easier for us just to see our boards (to be used in Hopin). Thanks!
Best answer by Robert Johnson 16 April 2021, 00:50
@Julie Durot - By the way, if you were referring to using Projects as a means of only allowing your 14 occasional users to only have access to the Hopin event boards, they will see all of the boards in the team unless you go into each one's Share settings and set Anyone at [TEAM NAME] team to No access: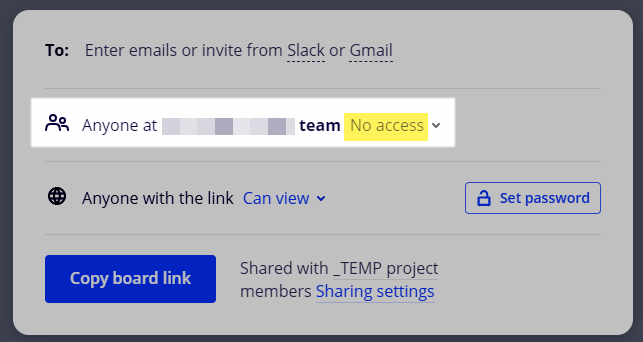 This is because the only way you can add a member (Full or Occasional) to be a member of a Project is if they are first a member of a team.
View original