Hey everyone! 
We're in the process of gradually rolling out our latest feature for teams on Paid Plans: Brand Center 🎨.  For those who don't see it in your Miro accounts today, hold tight, it's on its way.
Brand Center is perfect for ensuring that your work has a cohesive look and feel that aligns perfectly with your brand identity. 👌
When working on stakeholder presentations and customer workshops, Brand Center makes it easy to set up brand assets for your team and create professional-looking boards with your brand colors and fonts. Plus, with one-click color styling, you can update your boards with a cohesive color palette in seconds. 🖌️
Even if you're not a designer, your teams can align their work with your brand identity without spending hours tweaking each board. With access permissions, Admins can empower their teams to manage the Brand Center themselves or keep editing restricted to Admins only. 🔒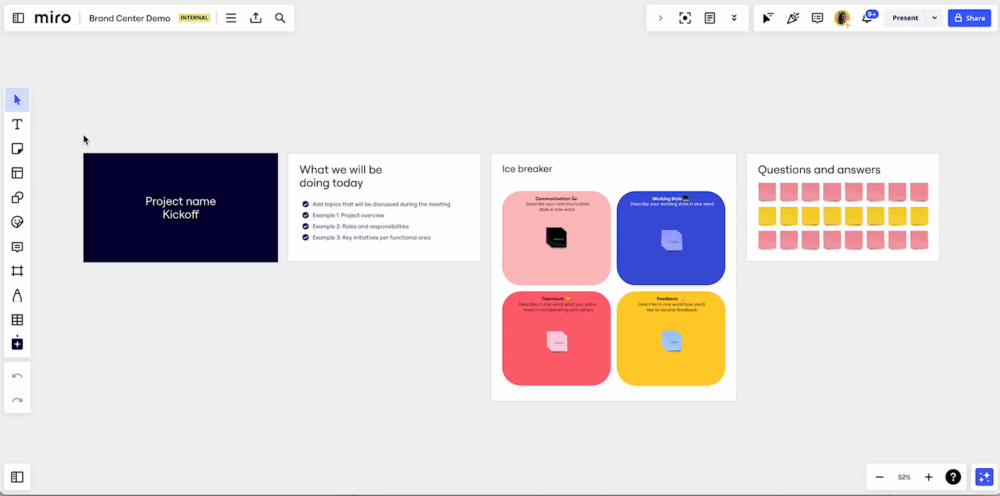 I highly recommend checking out Brand Center and Styles if you're looking for a way to streamline your branding efforts and ensure consistency across your work. Let me know if you have any questions or if you've tried it already, how it's going for you?

I'd like to take a quick extra second to thank our community members who stress-tested Brand Center and Styles with us. Thank you @Robert Johnson, @Paul Snedden, @Véronique Carbonneau, @Indra Kusuma, @Kyle Chipman, @Csaba Balogh, @Damien Gauthier, @Marie Louise, @Adrien Painturier, @Tommy Lin, @Felix Hawkings, @Ertay Kaya, and Benedict Wong!