Hello community! 👋
Miroverse is the destination for community members to publish their ideas as templates — and you keep sharing the most incredible things. 
When Miroverse creators share their work, they're not just sharing templates — they're making their wealth of knowledge and creativity accessible to all, guiding, inspiring, and influencing everyone, from passionate community members to our global product teams. 
Now, it's even easier for you to publish, manage, and share your templates with the world, with our new Miroverse updates. ✨
From Miroverse, you'll now be able to:
👩‍🚀 

Build a Miroverse profile to start sharing templates right away

🚀 

Craft your template submission with a more intuitive and flexible form
Gain visibility into the process with submission previews, saved drafts, and status updates
Keep your expertise up-to-date with easy profile and template editing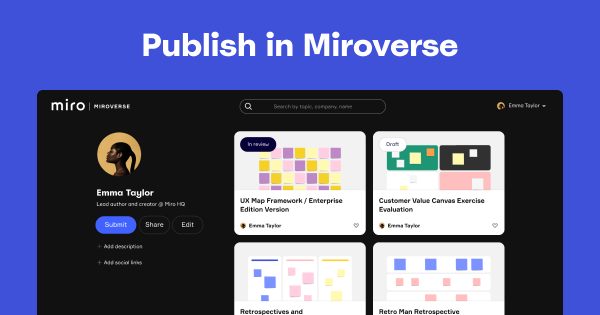 Visit our help center for more information about Miroverse, profile pages, and how to get published.
Anyone can be a creator, and with these updates, now it's even easier to share your expertise and bright ideas. If you've been thinking about contributing a template for the first time, consider this a sign from the Miroverse! 💫
As always, we'd love to hear from you in the thread below 👇
Thanks for creating with us,
Kristin