Hi guys, I would like to share with your our practice for using the Miro board for delivering trainings, workshops and development brainstorming sessions.
We started using Miro cca 2 months ago and were drawn to it because we used to be a part-distributed, part-remote team. Since then we switched to fully-remote business to ensure business continuity in these times.
Miro echoed in our organisation and is now used by all the teamleads, trainers, business developers, marketing experts etc. 
Here you will find examples on how we set up our boards for the before mentioned:
Example 1: The full setup of a 3-day Train the Trainer course
When we talk about trainings, Miro gives the ability to create the perfect training surroundings, with the effect of re-creating a classroom agenda online. We linked the topics into coherent groups and prepared the board for all 4 types of learners: visuals, auditives, reading/writing and kinestetics.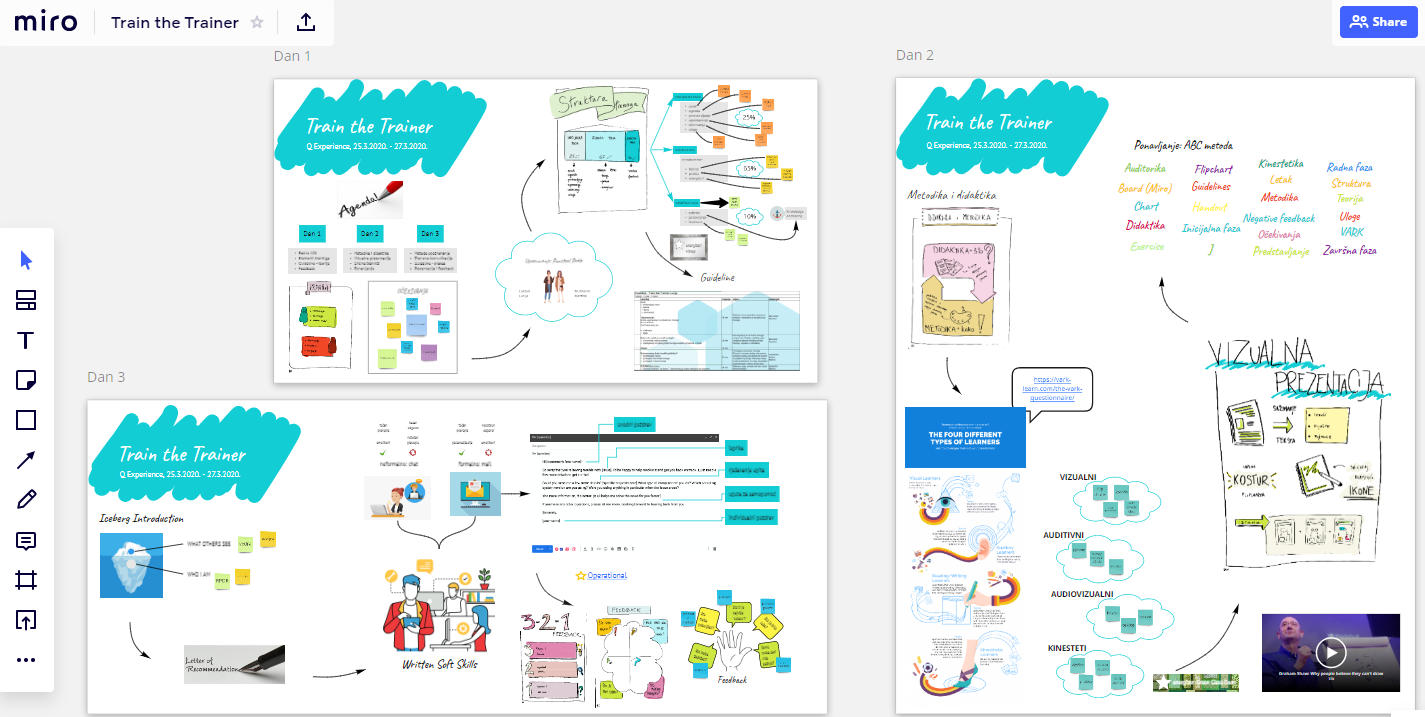 As you can see on the picture above, we used 3 frames to re-create the complete training course online. The board was shared to the trainees and they were able to use it during the training to: set expectations, take notes, give examples, play icebreaker games and give feedback.
Example 2: Implementing the materials
Luckily, Miro offers a great drag-and-drop plugin so we were able to implement visual elements easily, as well as some videos that we were able to watch on the board itself (no need to open it separately). When it comes to digitalizing our usual visual aids, flipcharts, we digitalized them in the form of a vector and used Miro to add color to it.
Example 3: Workshops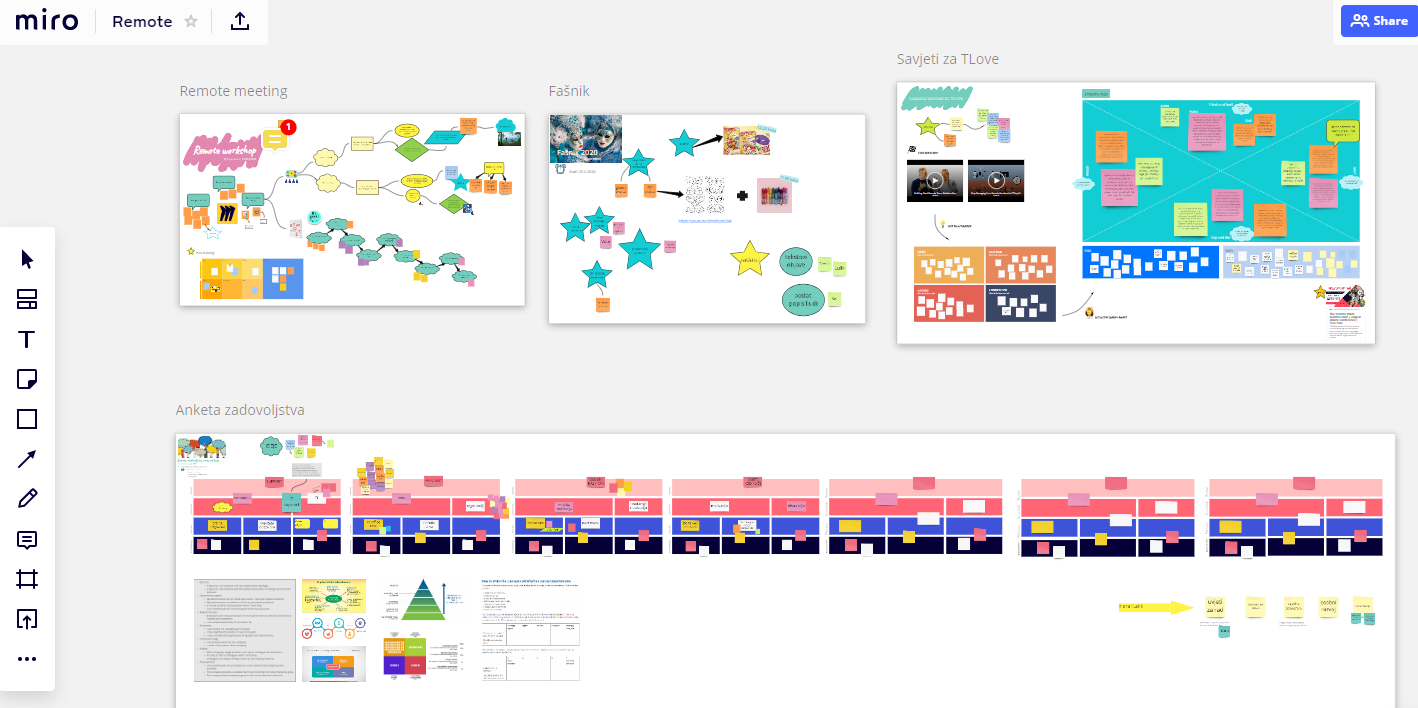 We use one board for remote workshops only, and open new frames for each workshop - that way the participants are able to follow and connect the topics and collaborate on the board.
Example 4: Brainstorming sessions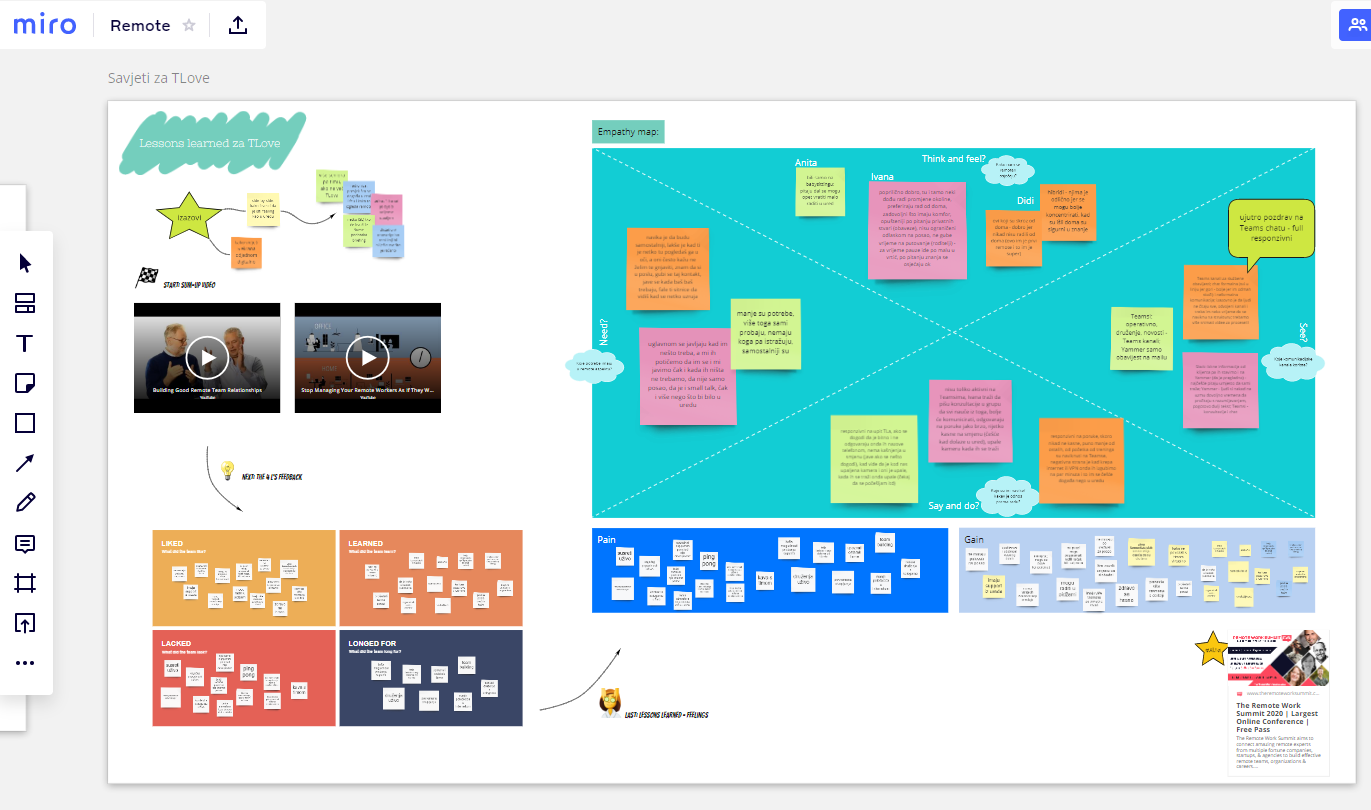 One of the workshops was a brainstorming session on the topic of remote employees. We used the Miro templates and modified them in order to receive constructive feedback and brainstorm further on the topic. The best thing here was that the feedback received in the second task was then just copy/pasted to the third activity and used as a foundation for further brainstorming and collecting feedback. Easy, time-saving and effective.
All in all, we are more than happy that we discovered Miro and are suggesting it to all our usual external collaborators. It is user-friendly, simple and effective and offers a great digital substitution to live meetings.
Feel free to post any questions or feedback in the comments below :)
Hope this helps in your further work.