Welcome to October's Miroverse roundup! Last month, you set an all-time record for most templates published with a jaw-dropping 200 new creations now available in Miroverse — incredible! 🏆
Each new template added to Miroverse by you, the Miro community, is invaluable as they inspire Miro users around the globe with new, interesting ways to work, solve problems, and innovate to build the next big thing. So thank you to every Creator for making Miroverse a limitless source of inspiration for all of us!
If you have a Miro board that you believe could make a useful template, there's no time like the present to submit! It's simpler than you might think, and who knows, you might find yourself in next month's roundup, receiving the recognition you deserve. 🚀 Learn more about getting published on Miroverse in the article or join our Creator training in December.
Voltage Control | Most Published
Miroverse Creator 🚀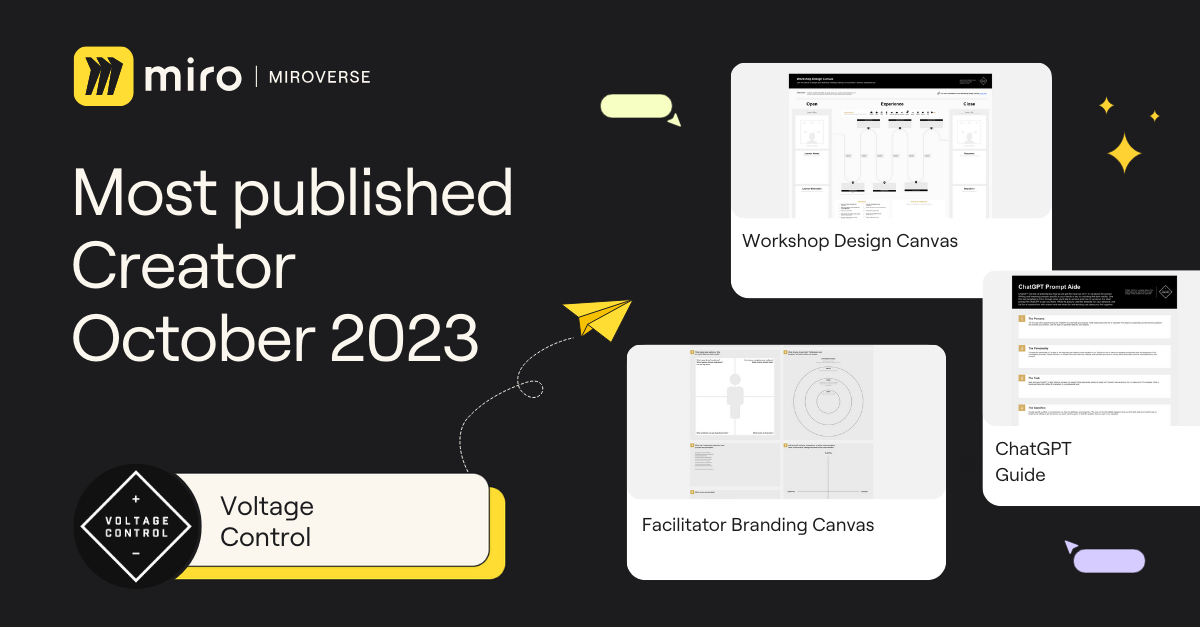 @Douglas Ferguson and Voltage Control reclaimed the crown in October, securing the title of Most Published Creator with 22 templates! 👑
Voltage Control's profile now contains a grand total of 60 innovative templates, filled with solutions to elevate your collaboration game, supercharge team facilitation, and spark fresh ideas. 💡
Congratulations, Voltage Control team! We look forward to seeing what you create next.
Leanne Cain | Most Copied
Miroverse Creator 🚀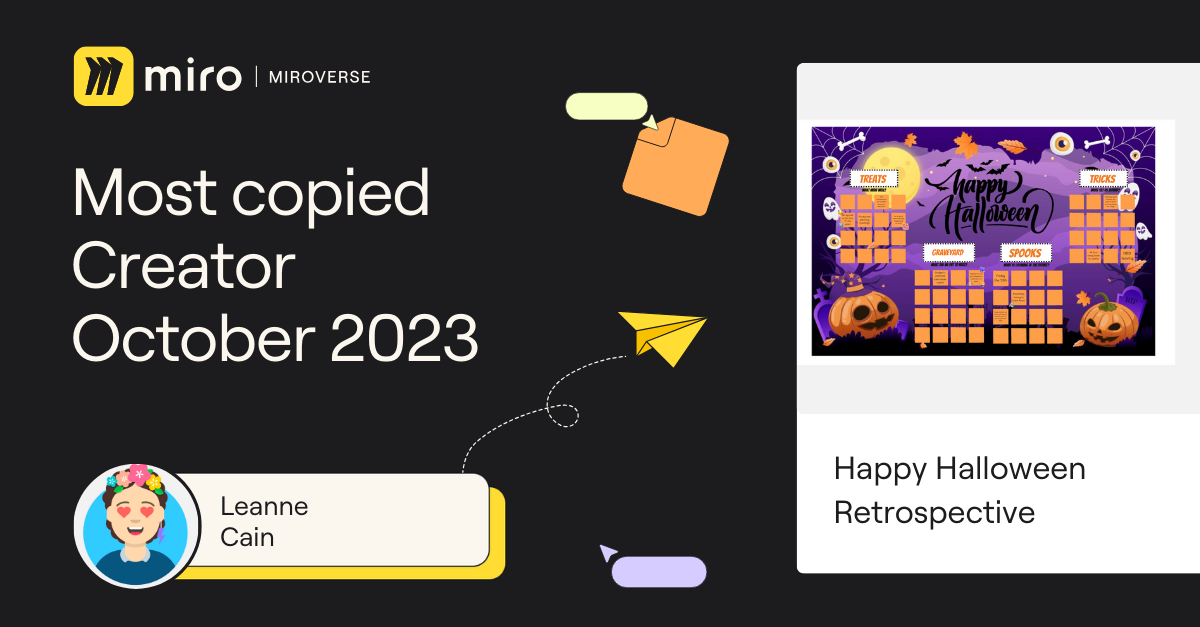 The WebstaurantStore team is once again a top contributor, taking first place as our Most Copied Creator in October. 🏆
This time, we're shining the spotlight on Leanne Cain. She's helped us bring festivity and joy to work with a Halloween Retrospective that's been copied over 500 times in less than a month! 📈
Leanne's bright and colorful creation also inspired a spooky Halloween Instagram reel. 🎥 Don't miss out on the fun – be sure to check it out!
Leanne, your creativity and  visualizations are incredible. We eagerly await your next retro, so keep the magic coming!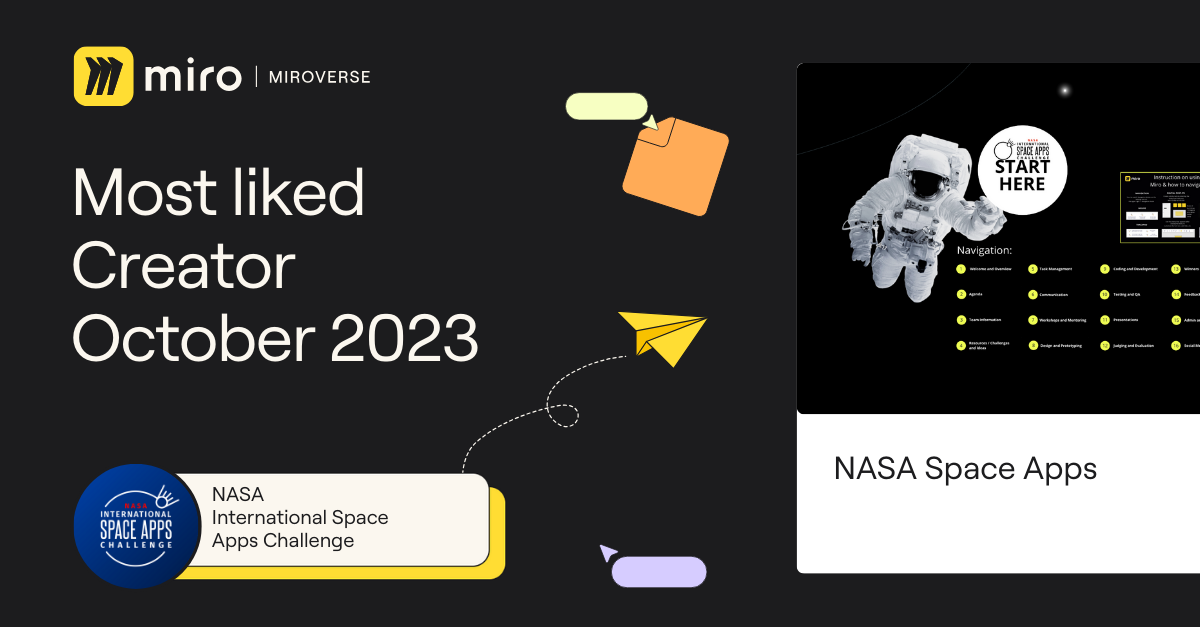 The NASA International Space Apps Challenge is one of the largest hackathons in the world, bringing together young minds from across the globe to tackle challenges on Earth and beyond. 🌍
We're thrilled to introduce a remarkable NASA Space Apps Hackathon template designed to assist Local Leads in setting up local events as part of the global initiative. 
Anyone can adapt this template for your team's innovation events! This template is a one-stop shop for event hosting, from planning and organizing the agenda and teams, to judging and collecting feedback.
Kudos to the NASA Space Apps team for their outstanding work! We can't wait to see how the participants, driven by innovation and passion, will shape the world. 🌟
💡Pro tip: Speaking of likes — did you know that when you "like" a template, it gets added to a folder on your Miroverse profile? That means you can use the like button to save the templates you want to reference and use again and again.
Guy Raz | Professional Spotlight
🚀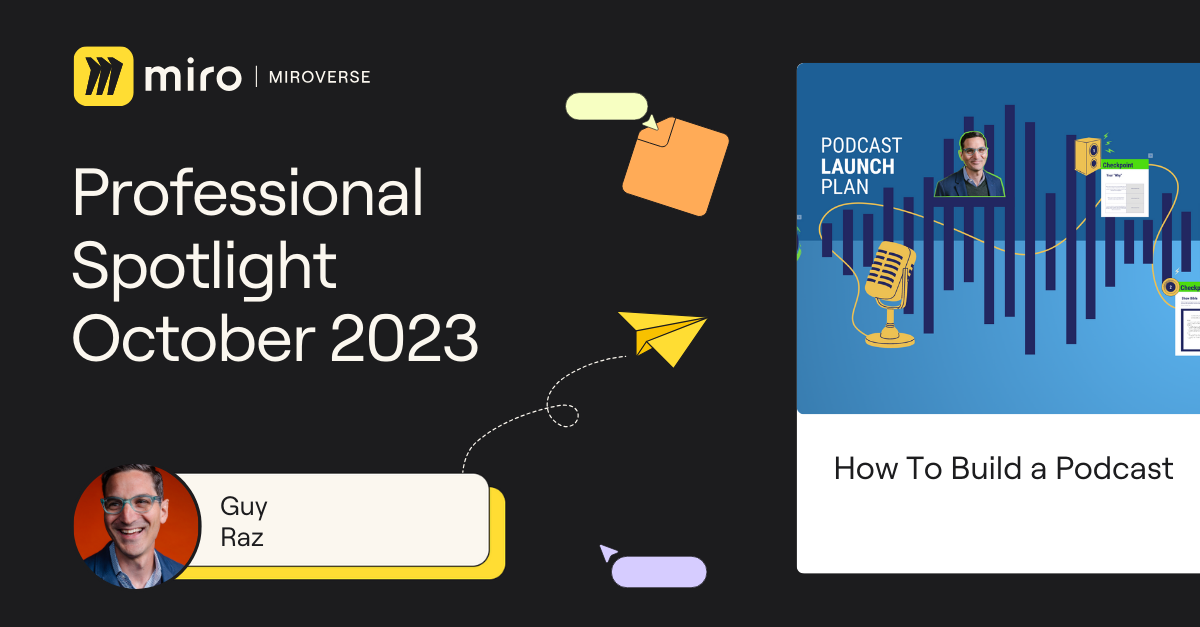 Countless experts use their skills every day to create something new with Miro. When those creations are published to Miroverse, those experts generously make their knowledge available to all of us. 🌟
One such expert is Guy Raz — an award-winning reporter, radio and podcast host and creator. He's well-known for his podcast and book "How I Built This," and is also the co-founder of two media companies including Built-It Productions and Tinkercast. 🎙️
Guy Raz recently published a template to Miroverse, How To Build a Podcast, designed to help you create and launch your own podcast. It also includes a Talktrack where Guy explains how to get the most out of this guide.  
The Miroverse community is full of talented individuals like Guy Raz who generously share their expertise with all of us. Let's continue exploring and creating together in the Miroverse!
Voltage Control team, Leanne, NASA Space Apps team, Guy Raz — congratulations! Share your accomplishments on social and tag @mirohq and #miroverse so we can help you celebrate.
Discover thousands of customizable templates created by Miro Community members for real projects and problems in Miroverse. Share with us what you found interesting this month in the thread below.

Feeling inspired? Join our community of Creators and share your ideas with the world.