The Miroverse grew by more than 100 new templates last month, showcasing the breadth and depth of creativity of our creators! 
Within this vast galaxy of content, some creators stood out as the brightest stars, making a significant impact on our community. Their contributions left a lasting impression on us and continue to inspire others.
Valentine Rousseaux
|
Most Copied
Miroverse Creator 🚀

Congratulations to Valentine Rousseaux for being named this month's "Most Copied Miroverse Creator!" Valentine, a product owner and product manager at Ubisoft, is passionate about maximizing user value through efficient project management and innovative projects. 
🔭 Discover Valentine Rousseaux' profile to try her Project - Timeline & Key Infos template.
Despite having published the first template only in March, Valentine has already gained significant attention from the Miroverse community - more than 180 people have already used this template. Valentine, we're looking forward to seeing what you will create next!
Vasilis Baimas
|
Most Published
Miroverse Creator 🚀

We are delighted to congratulate @Vasilis Baimas for being named March's "Most Published Miroverse Creator!" Vasilis is a talented UX consultant with a strong visual design background. He is known for his optimistic outlook, strategic problem-solving skills, and willingness to learn and give back to the community. 
🔭 We invite you to explore Vasilis's impressive portfolio of creative templates by visiting his Miroverse profile. 
In March alone, Vasilis published four new templates, adding to his already impressive collection. We can't wait to see what you will create next, Vasilis!
Said Saddouk
|
Most Liked
Miroverse Creator 🚀
We are thrilled to announce that @Said Saddouk has been named March's "Most Liked Miroverse Creator!" This is a well-deserved title, and we completely agree with the Miroverse community - we adore Said's fun and creative templates too! His Enotejis, published just this March, has already earned nearly 40 likes. As an experienced creator who constantly amazes us with his #MiroArts and innovation, we suggest you follow Said on LinkedIn for his latest updates and join his Miro User group. 
🔭 Don't forget to check out Said's impressive portfolio of templates.
Said, we truly appreciate your continuous support and can't wait to see what you'll create next. 
Alessio Somma
|
Templates Challenge Winner
🚀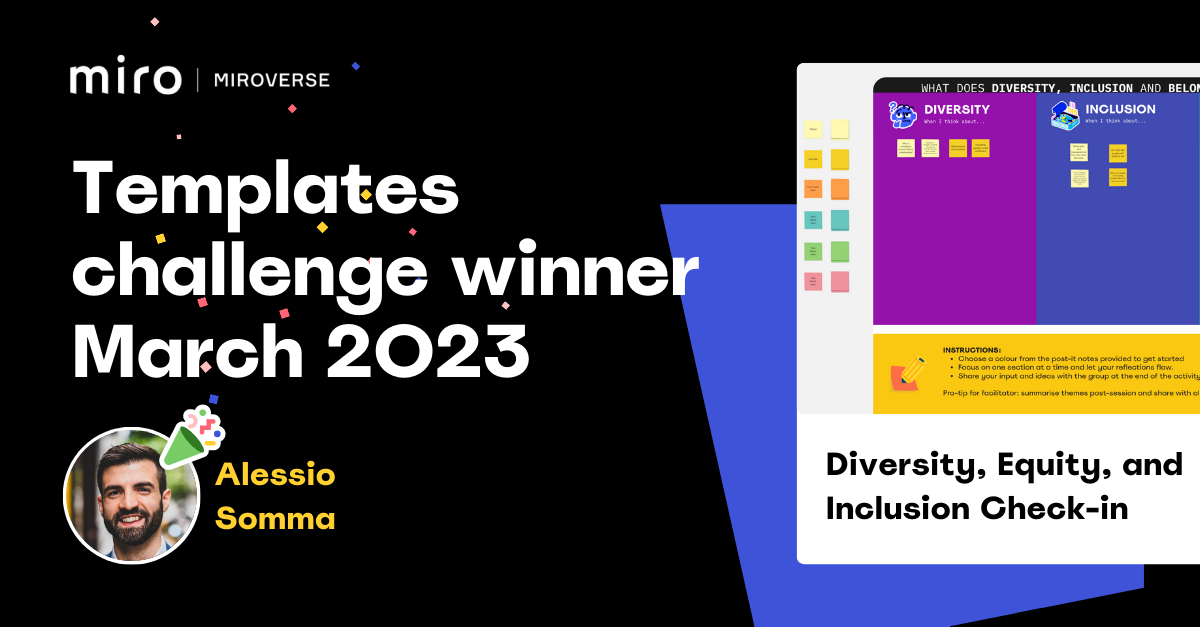 In March 2023, we celebrated International Women's Day by following the theme #EmbraceEquity in our regular monthly templates challenge. As part of this celebration, six creators submitted their templates from the kudos board to presentation, workshop, and retrospective, showcasing their talents and creativity in line with the theme. After careful consideration by the judges, @xAlessio emerged as the winner of the challenge. We congratulate Alessio for this impressive achievement and are grateful for the inspiring and empowering contributions of all the participants.
🔭 Explore the templates celebrating Women's stories, raising awareness around diversity and inclusion topics.
Valentine, @Vasilis , @Said Saddouk, @xAlessio  - congratulations!
➡️ Feel free to share it on social, tag @Miro and #miroverse.
_ _
Discover thousands of customizable templates created by Miro Community members for real projects and problems in Miroverse. Share with us what you found interesting this month in the thread below.
Feeling inspired? Join our community of creators and share your ideas with the world.