Hi all,
I've noticed in both the webapp and desktop version of Miro that there is no longer a way to present that allows you to do a "fly through" of the Frames as it zooms around the board. This appears to be replaced with the "Present frames as slides" option, and the new interactive option. This used to appear in the bottom toolbar and then was moved to the top, but now appears to be gone. See image below: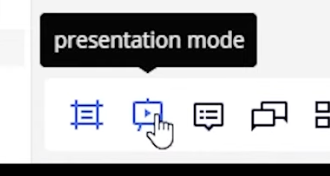 Is the fly-through option still available somewhere? I much prefer to present in this mode as opposed to it mimicking Powerpoint (which is the reason I use Miro in the first place!). If you're wondering why I prefer this, it is so that the presentation has a sense of dynamic movement to it - especially seeing as Miro does not have transition tools, I will often link different objects via arrows/lines, and use the fly-through presentation mode in place of it. 
Would love to know if this feature has simply been abolished, or if there is a roadmap for re-introducing it.