Welcome to this month's Miroverse roundup! 🎉 
September has come and gone, and it's time to shine the spotlight on the incredible creators who have contributed new ways of working to Miroverse. So, grab your virtual pom-poms and get ready to #celebrate the innovative templates added to our library over the last month.
If you have a Miro board that you believe would make a useful template, there's no time like the present. 🏆 Submitting a template is simple, and likely easier than you think — and who knows, maybe you'll see yourself in next month's roundup!
VMware Tanzu Labs | Most Published
Miroverse Creator 🚀

To kick things off, VMware Tanzu Labs published an impressive total of six templates! 👑 
Their new templates range from Scorecards to Health Checks to Retrospectives, showcasing their expertise in developing and modernizing applications and platforms. 💼💻
If you're looking to level up your collaboration game, we highly recommend browsing their Miroverse profile for all the effective templates they have to offer.
Hannah Geiser | Most Copied
Miroverse Creator 🚀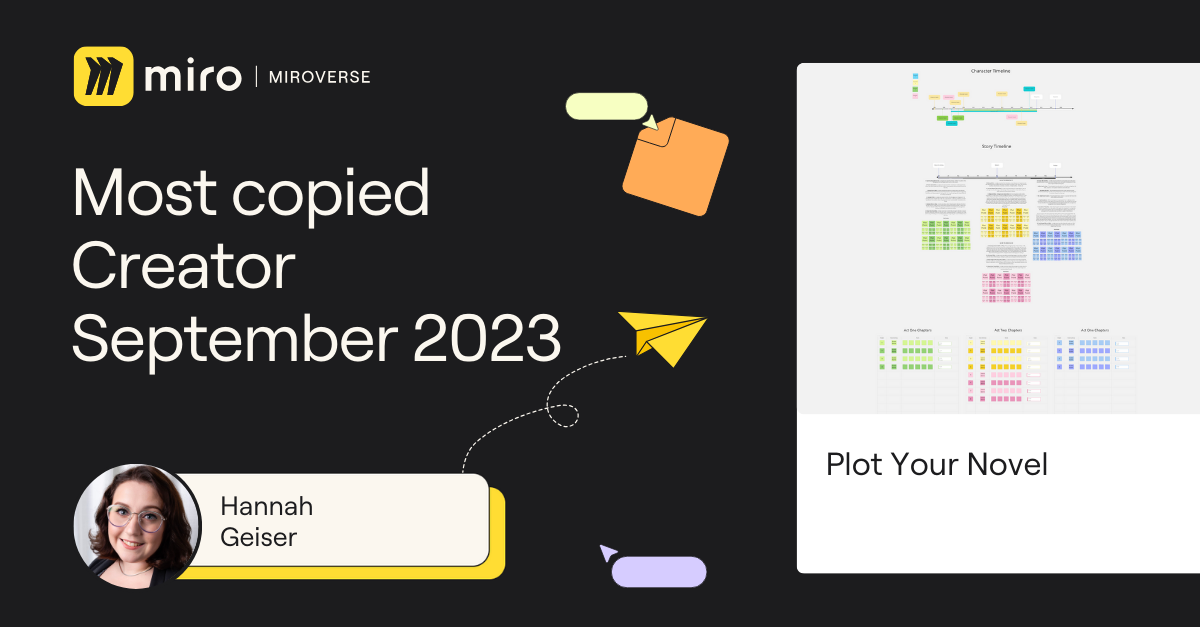 Next up, let's talk about @Hannah Geiser, the creative force behind the "Plot Your Novel" template that took the Miroverse by storm! 🌪️ 
In less than a month, this template was copied 228 times. That's not all — Hannah's TikTok featuring this Miroverse gem has already been viewed over 11,000 times! 🎥
As a tech marketer, Hannah knows how to capture attention and create wonderful content. Congratulations, Hannah! We look forward to following your future Miroverse templates, TikToks, books, and all your other creative endeavors. 
Josine Bakkes | Most Liked
Miroverse Creator 🚀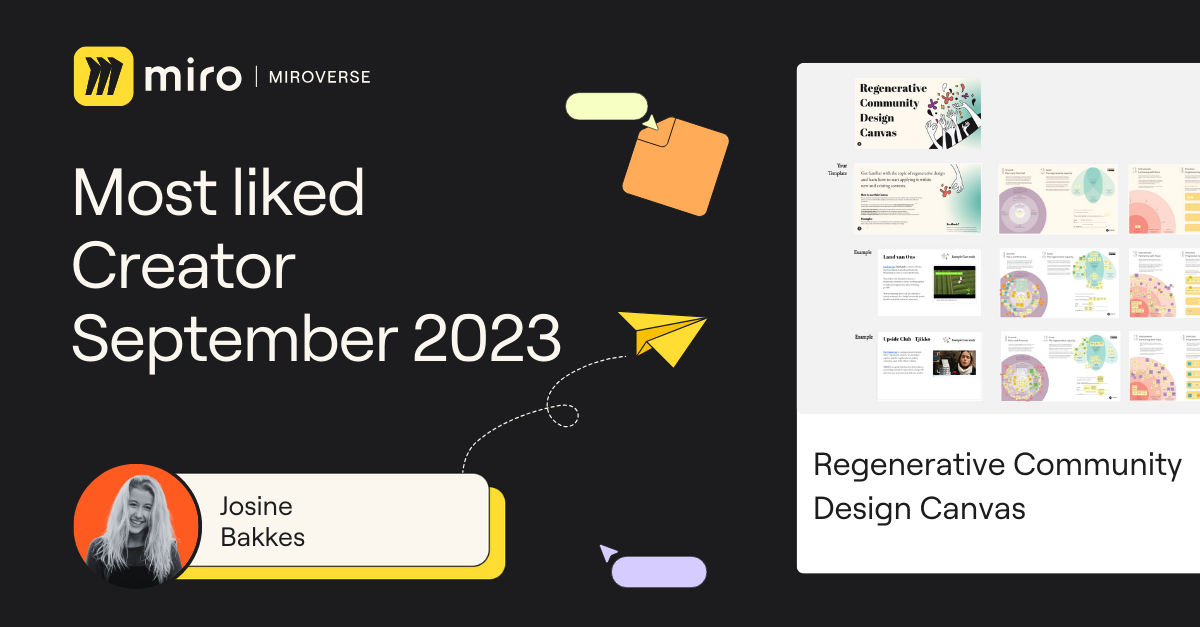 Josine Bakkes may be new to Miroverse, but she's already captured the hearts of our community! Her Regenerative Community Design Canvas received 40+ likes over the last month. 💖
Josine's work focuses on entrepreneurship and community design. We can't wait to see more of her helpful templates in the future. Your expertise is highly appreciated by the community, Josine! 🌟
💡 Pro tip: Speaking of likes — did you know that when you "like" a template, it gets added to a folder on your Miroverse profile? That means you can use the like button to save the templates you want to reference and use again and again.
Olga Torres
|
Social Impact Spotlight
🚀
Our first Social Impact spotlight goes to @Olga Torres, a mom to a teen with autism & ADHD. Olga's "My Autism Manual" template, created together with her child, Onyx, is a product of love with the support of a support group meeting for parents of ASD teens. This template helps teachers better understand teens with autism spectrum disorder, acknowledging that each diagnosis is unique. 
Olga and Onyx, your work is truly inspiring, and we can't thank you enough for your contributions. Keep up the amazing work, and we look forward to more templates that will undoubtedly help people around the globe better understand our peers and loved ones with ASD. 💙
Tyler Latshaw | Miroverse Templates Challenge Winner
🚀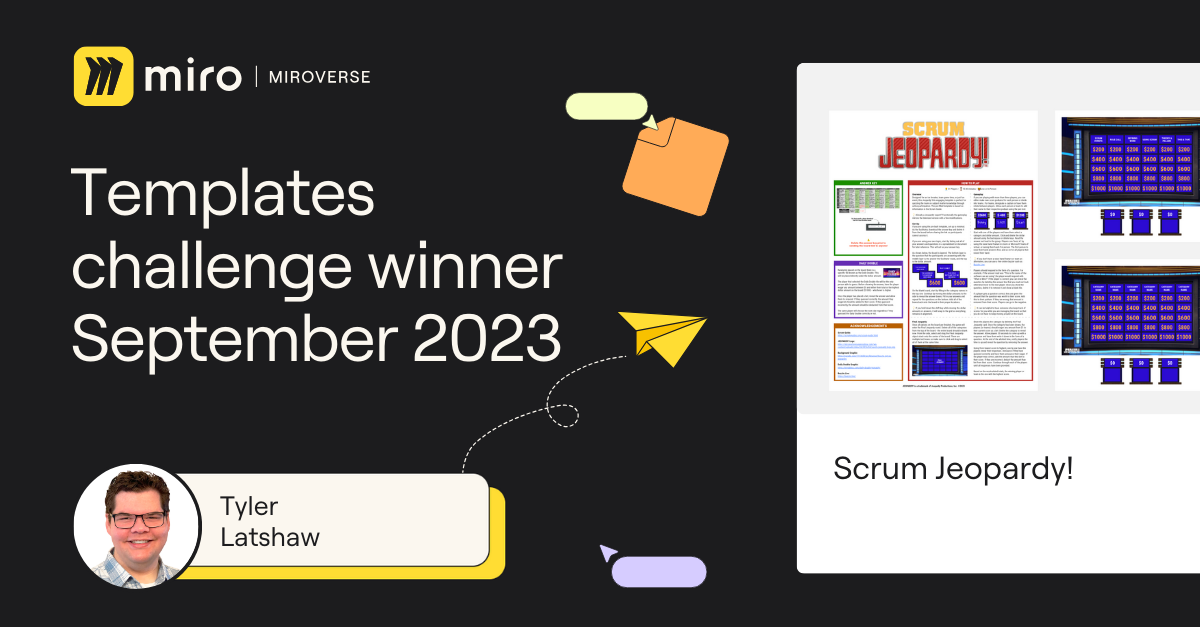 After this summer's community event, Into the Miroverse, we launched the Miro game contest. Games in Miro are not just fun, they can also be powerful tools for team-building and collaboration. We received several outstanding submissions that unlocked new ways to play and connect across workspaces and timezones.  🎲
@Tyler Latshaw's Scrum Jeopardy template took first prize for its ease of use, expert design, and attention to detail. Congratulations, Tyler, for this impressive achievement! 
🏆 Browse all the submissions from this year's games challenge for beautiful games built by the many talented members of the community.
VMware Tanzu Labs team, Hannah, Josine, Olga, and Tyler — congratulations! Feel free to share your accomplishments on social and tag @mirohq and #miroverse so we can help you celebrate.
Discover thousands of customizable templates created by Miro Community members for real projects and problems in Miroverse. Share with us what you found interesting this month in the thread below.
Feeling inspired? Join our community of Creators and share your ideas with the world.