Welcome to this month's Miroverse roundup! 🎉 
Miroverse continued thriving throughout the month of August as you, the Miroverse community, collectively contributed over 100 new templates. That's over 100 new ways to collaborate, play, plan, design, and research.
But wait — the excitement doesn't stop there! Let's take a moment to honor and celebrate the exceptional contributors whose creations led the way. 
If you have a Miro board that you believe would make a useful template, there's no time like the present. 🏆 Submitting a template is simple, and likely easier than you think — and who knows, maybe you'll see yourself in next month's roundup!
Visual Collaboration System™ | Most Published
Miroverse Creator 🚀
Huge shoutout to @Ole Qvist-Sørensen and his strategy, learning, and design agency, Visual Collaboration System™! They've soared to the top as August's Most Published Creator. 🏆
With over 15 years of international experience, Ole has been a true champion, guiding leadership teams toward a more visual way of working. Dive into Visual Collaboration System's Miroverse profile, where you'll find a goldmine of useful visual collaboration canvases and frameworks.
Not only Ole has gifted us this August with five phenomenal Miroverse templates, but he's also got a special treat in store for us on September 13 – a free workshop on collaboration superpowers in both remote and hybrid environments! 📆🌟
Huge congratulations to Ole and the team for this remarkable achievement! Looking forward to your workshop and the new additions to Miroverse.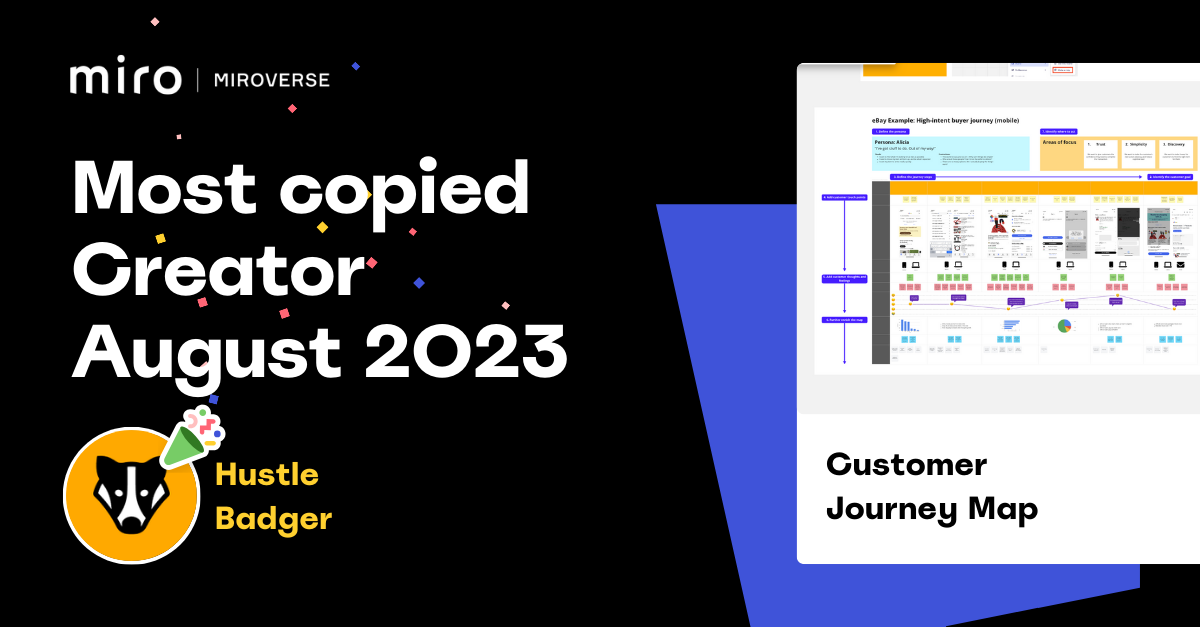 Hustle Badger | Most Copied
Miroverse Creator 🚀
🎓 Introducing a fresh new name to the roundup, Hustle Badger! These trailblazers are redefining Product Management education with a responsive approach by providing immediate, actionable answers to everyday problems through guides, how-tos, templates, and case studies. 📊
The numbers don't lie! 📈Hustle Badger's new Customer Journey Template has already been copied more than 200 times. 💥
A huge round of applause to Hustle Badger for this remarkable achievement! We're looking forward to more of your helpful resources to support those in the ever-evolving world of Product.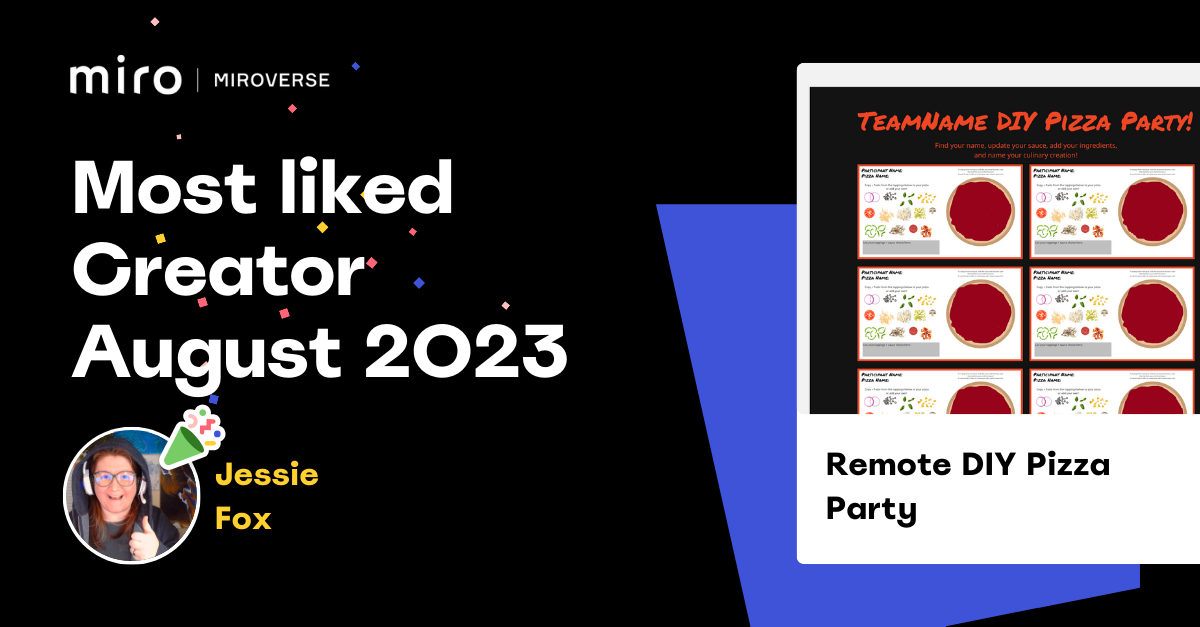 Jessie Fox | Most Liked
Miroverse Creator 🚀
Another standout Creator with incredible work in August – @Jessie Fox! Jessie managed to light up the Miroverse community with the launch of her Remote DIY Pizza Party. It's racking up the love with 60 likes and counting! 📊
That's not all — she's taken retros and ice-breakers to a whole new level with themes that infuse team routines with joy, from pizza parties to spa days. 🍕
Ready to add a dash of fun to your meetings? Check out Jessie's Miroverse profile for all her unique gems.
Jessie — congratulations on this fantastic accomplishment! 🙌🎉We're eagerly waiting to see which pop culture moment will ignite your next wave of incredible creations.
Ole, Jessie, Hustle Badger team — congratulations! Feel free to share your accomplishments on social and tag @mirohq and #miroverse so we can help you celebrate.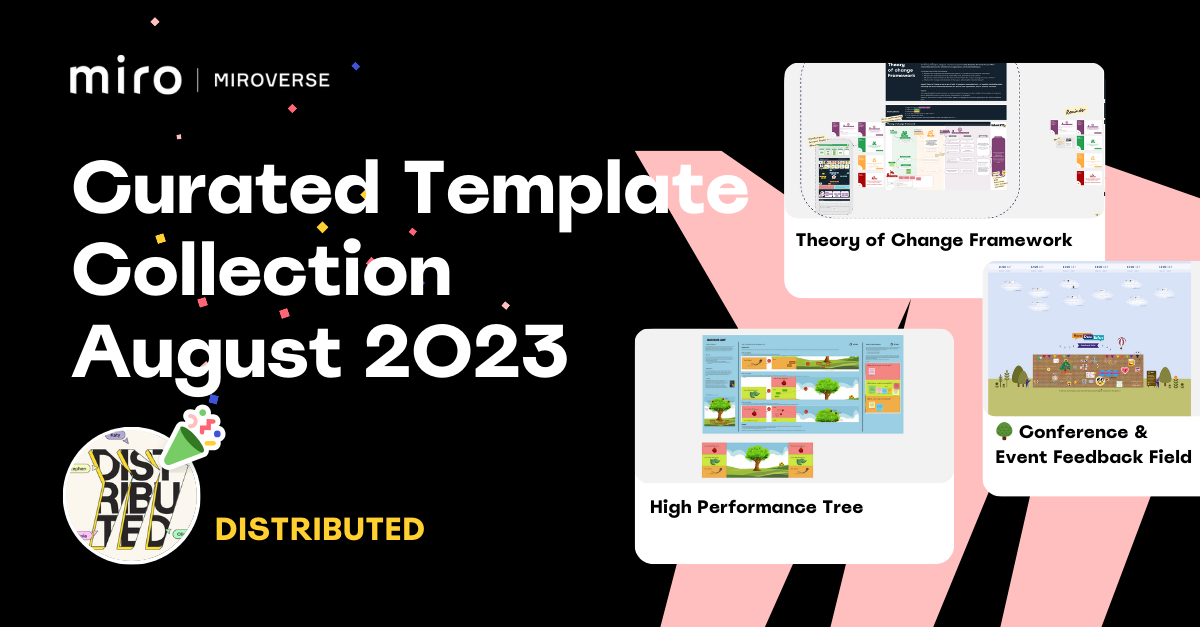 Distributed
|
Curated Templates Collection
🚀

Miro has officially opened registration for our largest community event of the year – Distributed '23!  Mark your calendars for October 18 –  a day to connect, get inspired, and create together!
Let's take a moment to revisit the inspiration that fueled us one year ago. ✨ Take a stroll down memory lane and explore the template highlights of Distributed '22. 🎈🔥
This collection is about to get a major update after this year's event, so check it out while you can! 🎉 Get ready to be amazed and inspired all over again!
See you at Distributed '23!
Discover thousands of customizable templates created by Miro Community members for real projects and problems in Miroverse. Share with us what you found interesting this month in the thread below.
Feeling inspired? Join our community of Creators and share your ideas with the world.