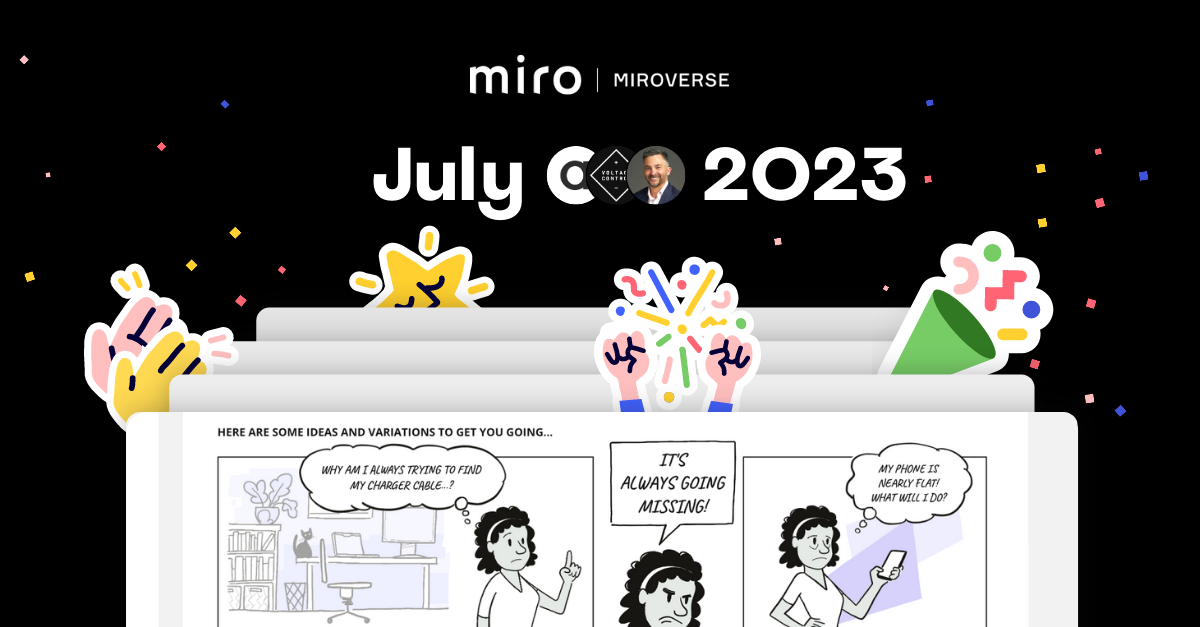 📅 Welcome to the July Miroverse roundup! 🎉 This month has been nothing short of extraordinary, with a burst of creativity and innovation taking over the gallery. 🚀✨
In total, we've seen a whopping 150+ templates added, setting a new monthly record! 🏆
Let's give a big round of applause to all the creators who've contributed to this month's success and shine the spotlight on a handful of those leading the way. 🙌 
💡 If you've got a template ready, or a even a Miro board you think would make a good template — take a shot and submit it! The template submission process is easy, and our team is here to guide you along the way if you've never submitted before, or even want to workshop a half-finished template. Let's keep the creativity flowing in the Miroverse community! 📩
Ben Crothers | Most Liked and Copied
Miroverse Creator 🚀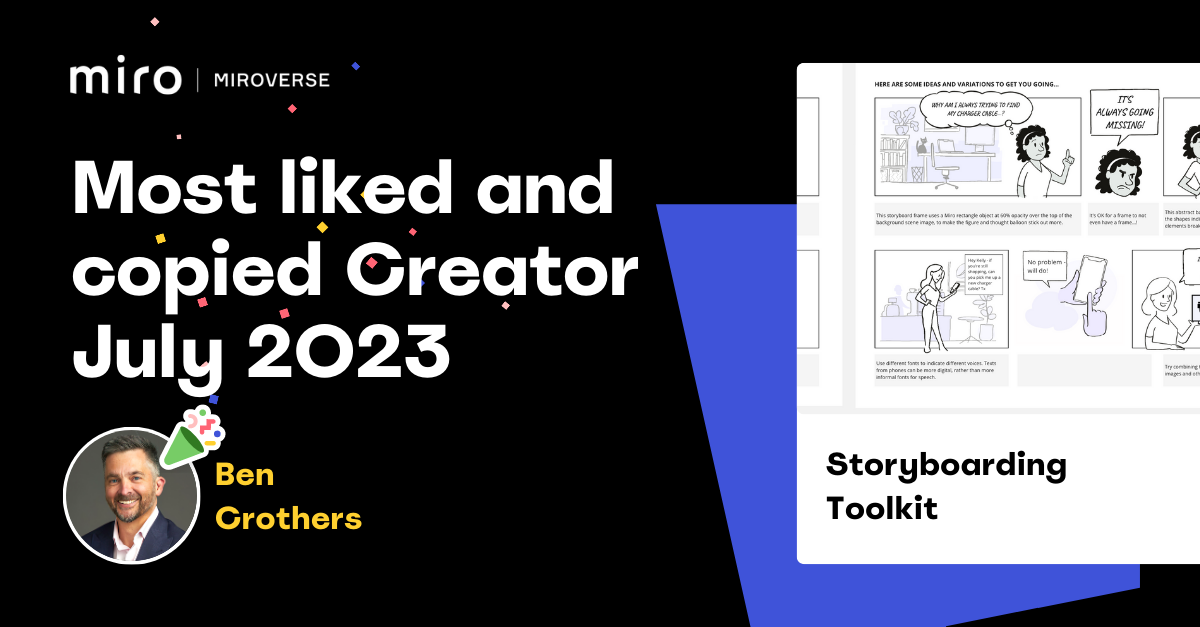 🎉🚀Big congrats to Ben Crothers, Principal Facilitator at Bright Pilots, for embarking on an amazing creative journey in Miroverse by the end of July! 🌟✨ His Storyboarding Toolkit template is smashing monthly records with over 150 copies and 40 likes (and counting)! 👏👍
The secret behind its popularity? 🤔✨
Unique and valuable content that's super easy to customize.

A robust and optimized description for search engines.

In-depth usage guidelines in video format.
It's truly the perfect recipe for success! 🎯🏆
Even Miro designers are in awe! One said, "This is a really well-made template. Clear instructions, great utility." 🙌🎨 Way to go, Ben! We can't wait to see the fantastic creations you'll unveil next! 🌈🌟
Voltage Control | Most Published
Miroverse Creator 🚀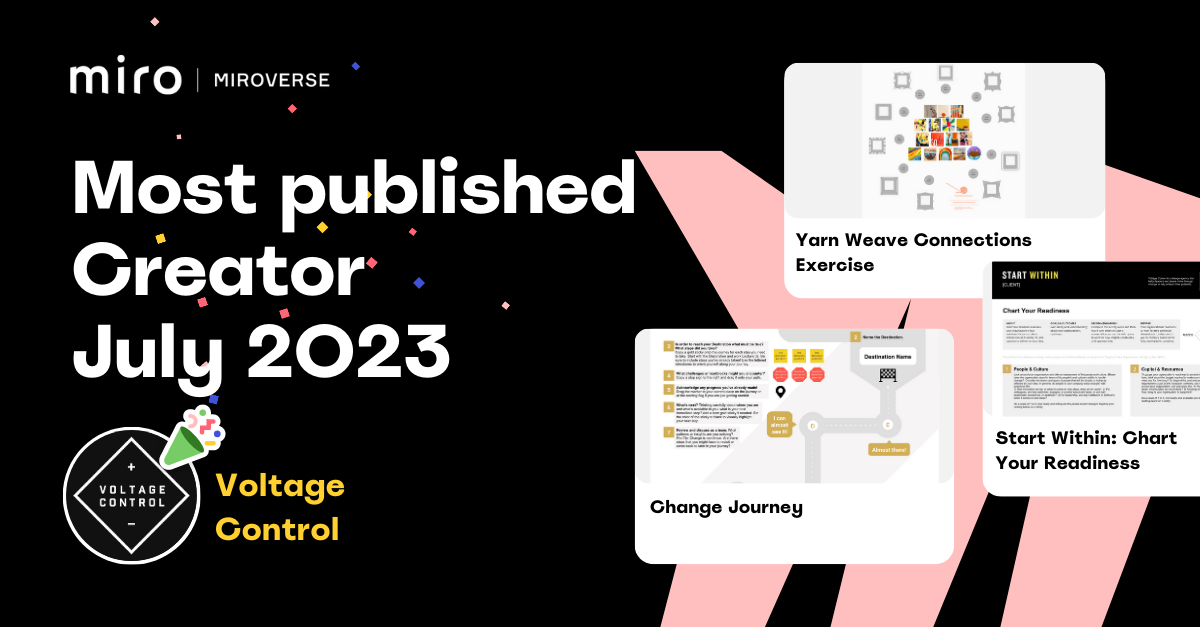 🏁🚀 Last month, multiple Creators published several templates, making July a tight race for the Most Published Miroverse Creator title! Our winners are the amazing team at Voltage Control, a Change Agency! 🎉👏 They dominated the leaderboard by publishing 17 Miroverse templates this July! 🏆
The Voltage Control team transformed one of their recent e-books into the several engaging, collaborative templates. 📖💡 The "Start Within" framework empowers you to identify your company's unique nature, drive innovation, and discover the right tools to take action towards impact. 🚀🌈
Ready to dive in and experience the magic for yourself? Head over to Voltage Control's profile and try out their outstanding templates with your team! 🧠🔍 
Ben, Voltage Control team — congratulations!

Feel free to share your accomplishments on social and add #miroverse hashtag.
ASOS
|
Featured Brand
Creator 🚀

🌟🎉 ASOS has been on fire in July! 🔥 As a company that never settles, they embrace an "always in beta" philosophy, constantly striving to make things better every day. 💪✨ Their approach is a goldmine for learning, especially when it comes to ideation workshops, digital product development sessions, and email communications. 📝💡
But that's not all! ASOS started their Miroverse journey with a bang, not only by publishing three brand-new templates, but also by trying out an exciting new feature in Beta: Talktrack! Check out their video walkthroughs on the boards! 📹👀 
Let's give a big round of applause to the ASOS team for their remarkable success! 👏🎉
Discover thousands of customizable templates created by Miro Community members for real projects and problems in Miroverse.
Share with us what you found interesting this month in the thread below.
Feeling inspired? Join our community of Creators and share your ideas with the world 🚀📩. Together, we'll keep the Miroverse community thriving and full of innovation in August and beyond! 🌟💡