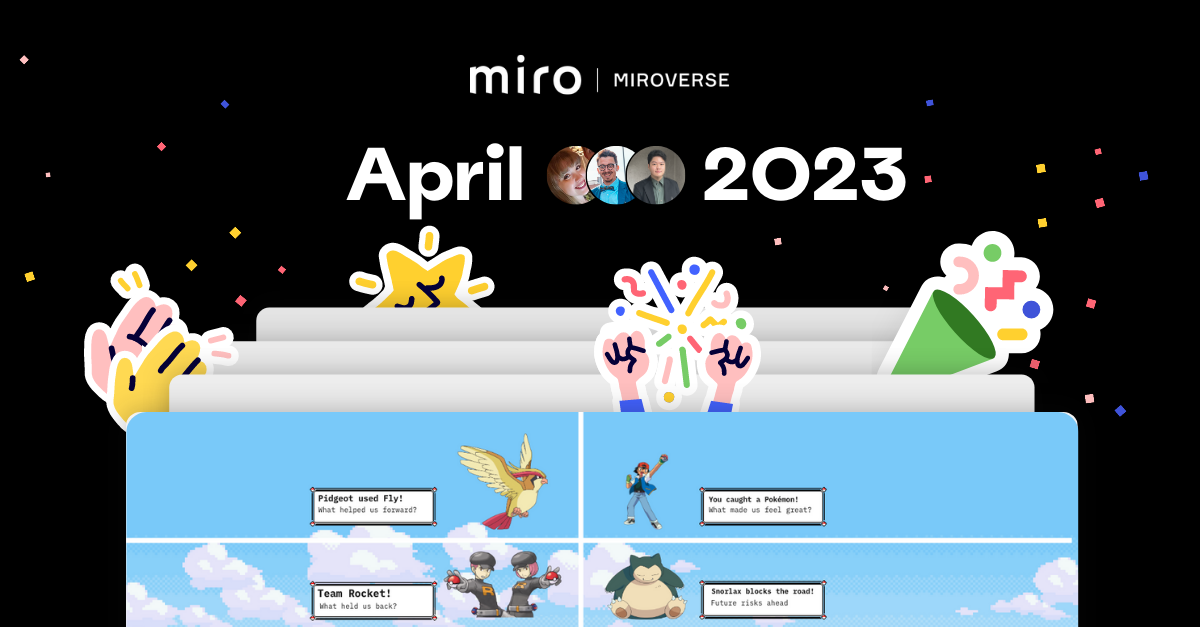 Welcome to the April Miroverse community roundup! Last month has been an exceptional display of your creative abilities and teamwork. We're thrilled to announce that the gallery has grown by over 130 unique templates! Enjoy and explore the newest templates to find inspiration for your next project. 💫 
In this article, we'll highlight standout creators with the most copied, published, and liked templates in April. Remember — creativity fuels creativity! So, let's dive in and recap our community's incredible accomplishments from this month.
Hannah Walker
|
Most Copied
Miroverse Creator 🚀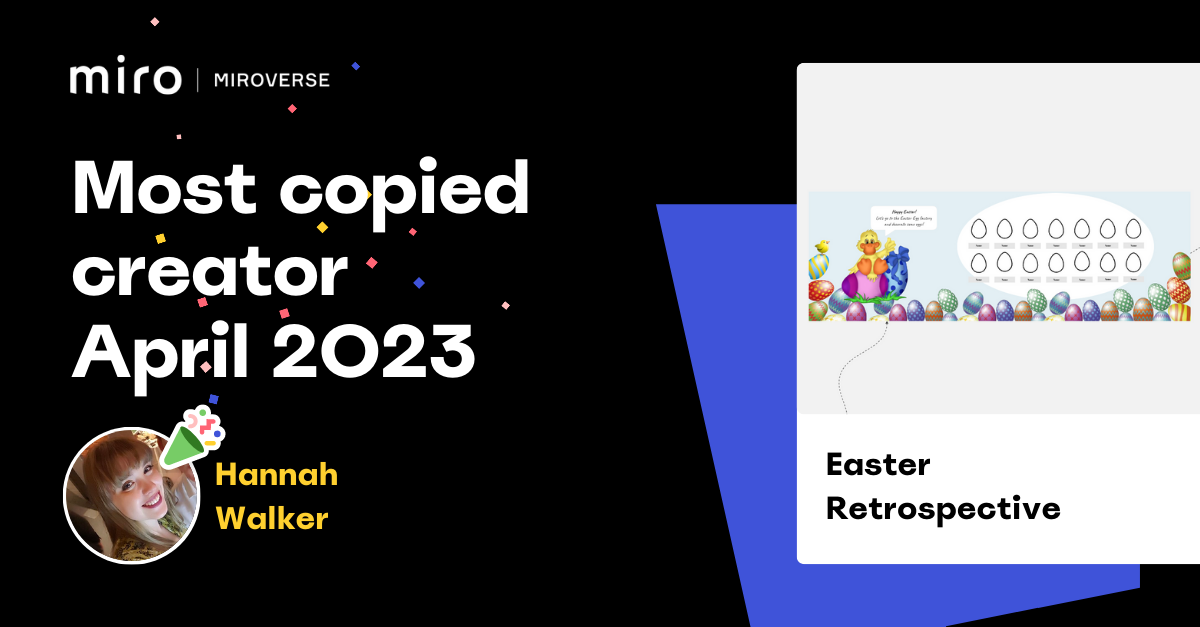 🌸 We hope you enjoyed the Easter festivities this month.🐰  Speaking of which, we've noticed a popular theme among our Miroverse community — Easter retrospectives! 🐣 Hannah Walker's Easter Retro board has been used over 100 times by the community. So, if you're looking for inspiration for your next occasionally-themed retrospective, be sure to check out Hannah's profile and her Easter Retro board. 🤩
A big shoutout to Hannah for your first Miroverse publication and its incredible success! 👏  As a Scrum Master, we're sure you have many other exciting projects to share that will gain the attention and appreciation of our international community of Creators and Miro users. 
Keep up the fantastic work, and we can't wait to see what you come up with next! 🎨
Hungino
|
Most Published
Miroverse Creator 🚀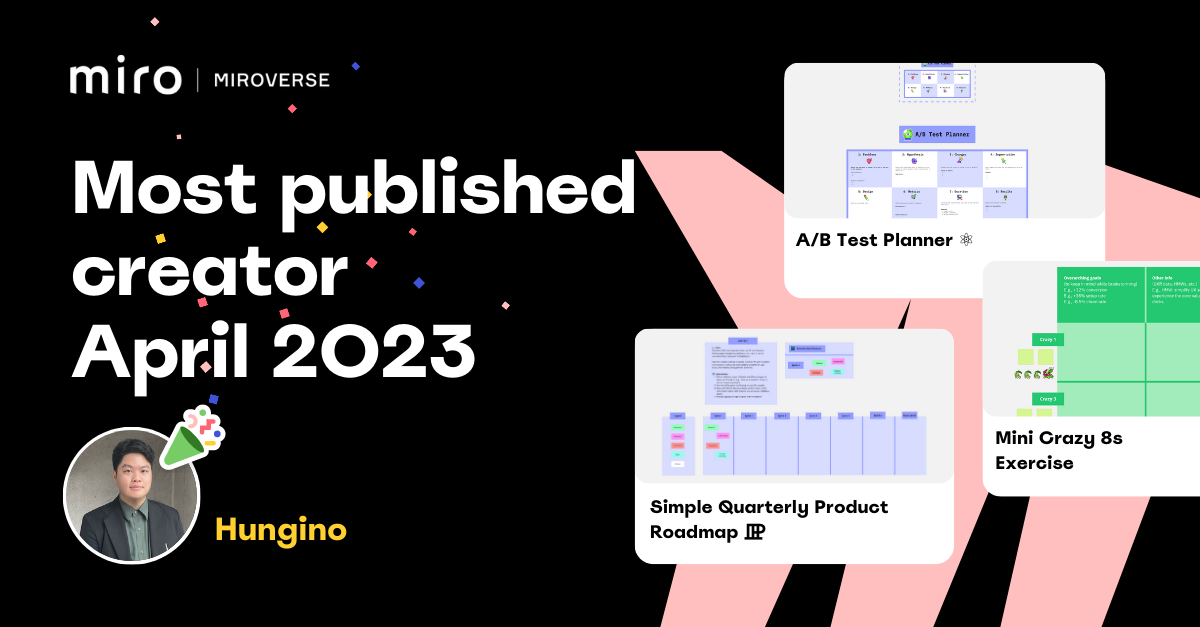 Join us in congratulating Hungino 👏, Senior Growth PM at Virtusan, for being named April's Most Published Miroverse Creator! 🎨 He knocked it out of the park by publishing six incredibely helpful templates for product managers and related disciplines. 🚀
If you haven't already, check out Hungino's impressive portfolio of creative templates. 🤩 We guarantee you'll find some gems that will help you streamline your work and boost your productivity. 💪
We also wanted to give a special shoutout to Hungino for sharing his creativity and expertise with our community for the first time. 🙌  We're blown away by your talent and can't wait to see what you'll create next! 🤩 Keep up the great work! 💫
Lois
|
Most Liked
Miroverse Creator 🚀
🎉 Join us in congratulating Louis 👏, developer at Accent Jobs, for being named April's Most Loved Miroverse Creator! ❤️ His Pokemon retrospective template captured the hearts of our community, and we can see why — it's so fun and creative! 🐱
We love that Louis uses his creativity to help teams find new ways to innovate by working together. 🤩 Miroverse is lucky to have you here, Louis, as we share the same values of creativity and collaboration. 💪
Be sure to check out Louis's portfolio and templates on his Miroverse profile. 🚀Louis, we appreciate your creative contributions and can't wait to see what you'll build next! 🎨 Keep up the good work! 💫
Sara Parra
|
Monthly Templates Challenge Winner
🚀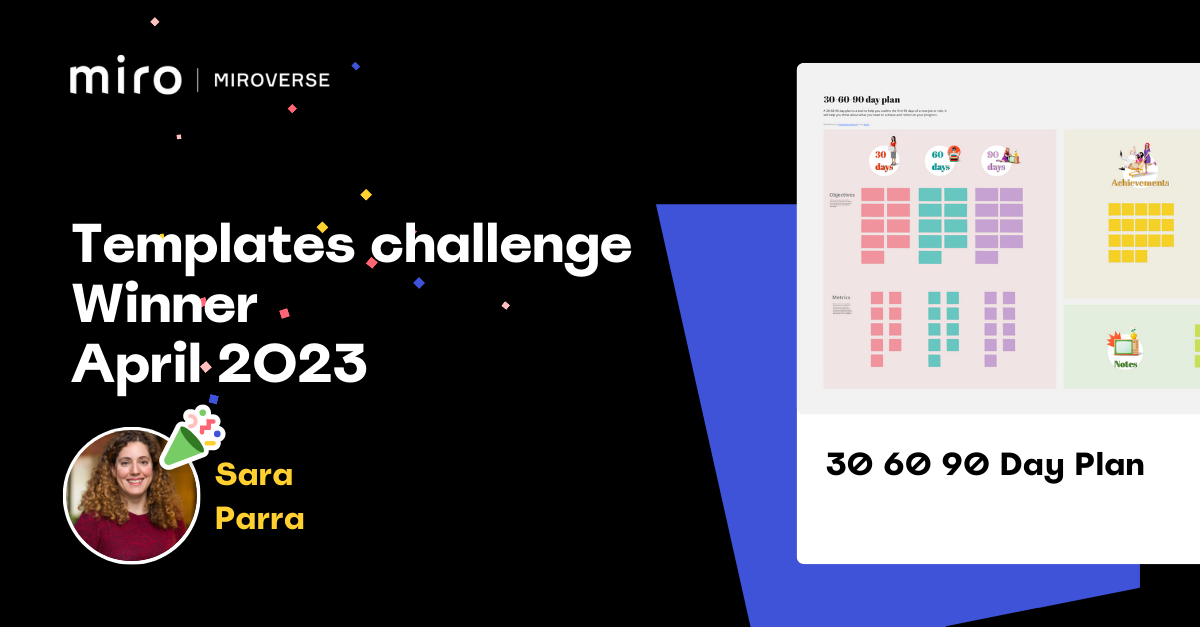 🌟 In April 2023, three community group leaders led a creative challenge around employee experience. 💡
The challenge was to create a template for any aspect of the employee experience, from the moment someone looks at a job listing to the moment they start at a new company. Submissions included OKR canvasses, inclusivity guides, onboarding and personal communications plans, and more. 🤓
After careful consideration by the judges — @Said Saddouk, Fun and Games User Group Leader, @Johanny Pestalozzi, Innovation and Business Strategy User Group Leader, and @Henrik Ståhl, Lean-Agile Evangelists User Group Leader — @Sara Parra  has been named the winner of this challenge! 🏆 
Congratulations, @Sara Parra, for this impressive achievement. We're grateful for the inspiring and empowering contributions from all the participants. 🙌
Check out these templates and more from our talented community by exploring the Miroverse gallery. Who knows? You might just find the perfect template to help you streamline your employee experience! 🚀
Hannah, Hungino, Louis, and Sara  — congratulations! Feel free to share your accomplishments on social, tag @Mirohq and #miroverse.
Discover thousands of customizable templates created by Miro Community members for real projects and problems in Miroverse. Share with us what you found interesting this month in the thread below.
Feeling inspired? Join our community of creators and share your ideas with the world.