Hello all together,
I'm new to miro and are struggling with the - so I thought - simpliest thing on earth.
How do I copy content from a free acount whiteboard → to the company account whiteboard?
I'm on FF and Chrome.
What do I do:
I am on my free Account Whiteboard
Strg A / or mark certain drawn elements on the whiteboard
Then I tried both: Strg c and with right click and context menu Copy
Then I switch to the company account (different browser)
and paste it

… nothing happens / as if there would be nothing in the clipboard.

Can anyone help, please!
Best answer by mlanders 2 April 2020, 14:22
Hello,
in your free account you can choose that you want to share your board with someone.
Invite your company account into your board.
After this you can find a symbol in your miro account: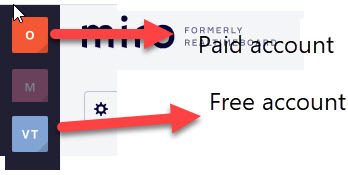 Go into your free account and copy from the board everything you like to.
Go into your paid account and add it into the board.
Michael
View original