Hi, i am planning a conference with microsoft teams and want to make 6 hangout sessions at the same time where they should work in groups of 25 people on a whiteboard. It should be a world cafe methode so they should switch to another whiteboard after they are finished and another group continues the work on their board. How can we handle that? Is it possible and what plan and setup do we need for that? thx and cheers Stefan
Best answer by Robert Johnson 22 October 2020, 16:02
@Stefan R - As I read it, you will have 6 sessions x 25 people = 150 participants in total. While one board can handle that many people one time, I would suggest making six boards. This would ensure better performance and also limit the number of cursors the participants will see. Of course, each user can hide collaborators' cursors if they'd like:

More on the topic of improving board performance here → Tips to Improve Board Performance.
To set up the boards, you could
Build your main board.
Duplicate it five times.
Name them Board 1, Board 2, etc.
Inside of each board, you could make a shape/sticky that says "Go to board[#]" and link it to the next board:

 
At the beginning of the session, you would give each group a link to the board that corresponds to their group number and they would cycle through with Group # 6 ending up on Board # 1.
Miro Plan
The Consultant Plan for $15/month would be the cheapest option if only one person will be signing in to Miro to do the work - if there will be more than one of you, you would probably want to consider the Team plan (compare all here). Any of the paid plans will give you Anonymous Guest Editors access, so you could set your board(s) Share settings to to allow anyone with the link the ability to edit, so that your session participants would not need a Miro account (you can put a password on the board too):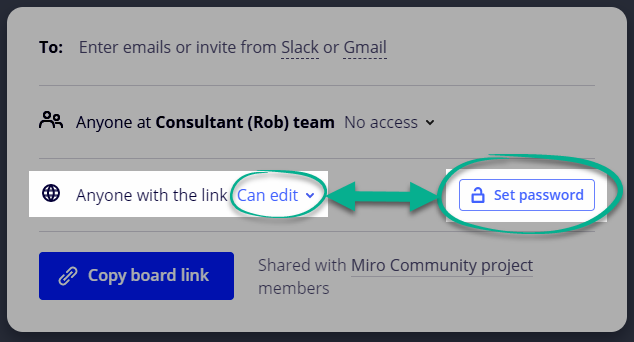 Let us know if you have any more quesitons!
View original