Hi all, New to Miro. New to boards. Have created several shapes, text boxes, and stickies that I locked (individually), but now need to unlock them and move. I see in the discussions that there isn't an unlock multiple items at a time function. I have tried unlocking each object/text/shape individually, but they won't unlock. It goes through the same icon where I click and hold to unlock. Looks like it's unlocking, but the unlock icon is still on the object. And when I go to move, the items all stay put. I feel like I must be doing something incorrectly. Help!
Here's the step by step again:
Created shapes, text, and stickies that I locked
I go to each shape/text/sticky to unlock
I try to move the objects into a new strategically placed frame, but they do not move and show as still locked
Thanks!
Elise
Best answer by Robert Johnson 15 October 2020, 22:42
@Elise Hudson - You are correct that that there is currently no quick way to unlock a bunch of items. This is because they cannot be selected using bulk selecting methods, e.g., Shift + drag or Ctrl + A (see the Shortcuts and Hotkeys help article for more).
What happens when you single click/select a locked object? (make sure your cursor is an arrow and not the hand/grab style - press V or H to cycle between the two).
In this example, I select each of a locked and unlocked sticky and then I use Shift + drag to try to multi-select both objects - only the unlocked sticky is selected: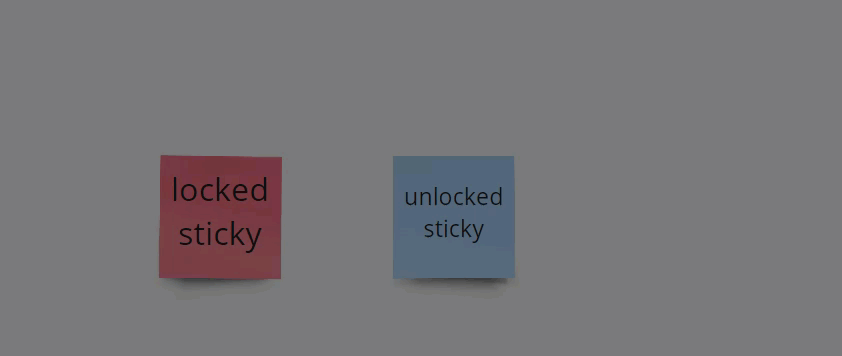 View original