Hi 
I am currently on a free plan and I own a board and member of 2 other boards. The board I own is also shared with 23 other users.  I am planning to  upgrade the account to a consultant plan and would like to keep it only one seat to begin with. So, the MIRO is asking me to remove the 23 active users to make it one seater consultant plan.  
I tried everything I know from MIRO support to remove, but I don't see any option to remove the 23 active users. I tried going to Team management under the Setting menu, and don't see the option.  I am getting really irritated with the complexity of the user management with the users even before starting the subscription.  What I am missing?
Best answer by Robert Johnson 22 November 2020, 16:23
@Venky - You are likely not seeing the three dots because you are a team Member and not a Team Admin and only the Team Admin can delete others from the Free Plan team.
A quick note before I continue. You mention being a board owner - this has nothing to do with your role on the team, i.e., team Member vs Team Admin.
If you do want to proceed with removing all 23 users so that you can upgrade the plan to a Consultant Plan, then you are going to either
have your team role changed to Team Admin, so you delete all members/users from the team; or
ask all 23 members to Leave the team.
Let's assume you're going with option # 1.
You will need to look through the list of Active users, find whomever is the Team Admin, ask them to change your roll to Team Admin:
And then then Delete everyone from the team: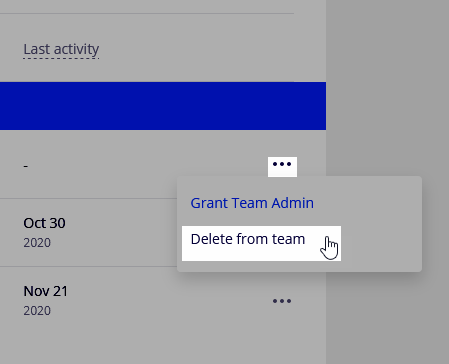 If both of these options won't work for you, then you could also Leave the current Free Plan team yourself and create a Consultant Plan, however, your board will remain behind in the Free Plan team. You could then have someone invite you back to the Free Plan team, Duplicate your old board, and then use the Move to account option to move the duplicated version to your Consultant Plan: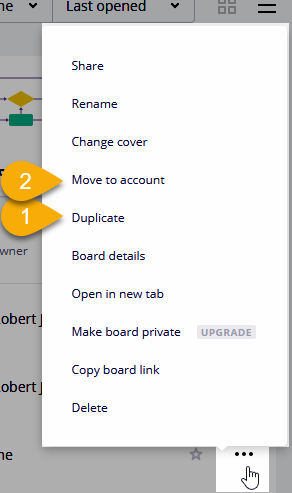 However, if you are unable to be made the Team Admin to remove everyone and don't feel comfortable Leaving your currently Free Plan team and therefore your board behind, then I would suggest that you go back to support and explain that you are not a Team Admin and want to keep a copy of your current board. You could also include a link to this post in your reply to support.
View original