Not sure how to use this online community?
  Too many categories, and sections, and groups?
 Lost in the woods?
I hope this guide will come in handy as you navigate through the Miro Online Community 
Miro Online Community: what can I do here?
This online community is basically a multifunctional forum where you can:
connect with your fellow Miro Heroes and network
tell your story, discuss what matters, share your opinion
show your Miro boards and templates and get inspired
ask and answer questions; help and get help
add your dream Miro features to the community Wish List
learn about product updates and news and content from the Miro team
participate in the challenges and win cool prizes
be recognized on the leaderboard.
How do I navigate through the homepage?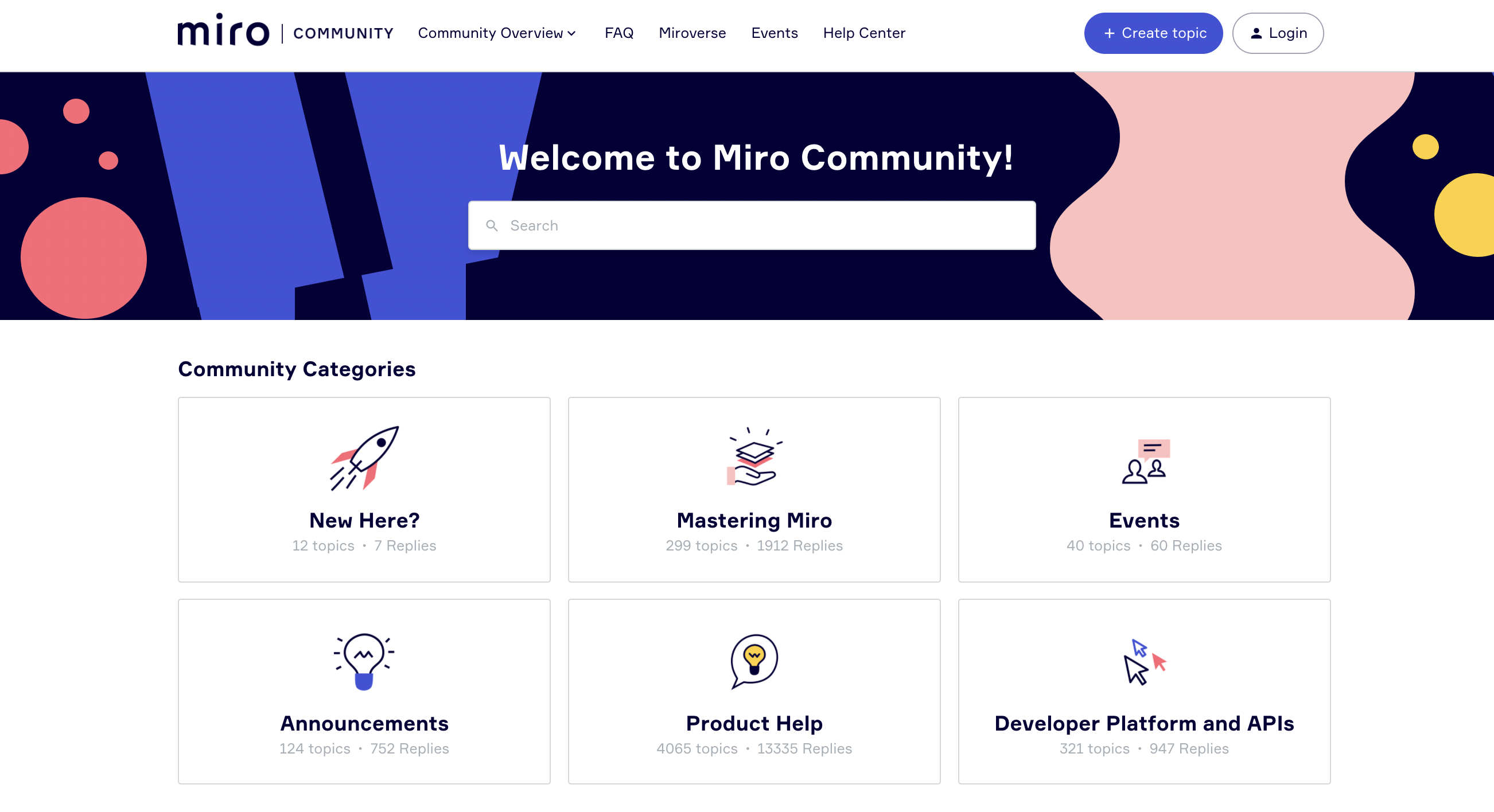 The community homepage consists of several blocks:
search bar (it will also show the articles from our Help Center)
community categories
recent discussions
leaderboard
quick links to other helpful resources
 Don't forget to check the header, as it also contains some useful links, as well as the community overview drop-down.
Categories overview
Let's dig deeper into the community categories and sections, and what is what.
 New here?
 Mastering Miro
Board Design - Share templates and discuss what makes great boards.
Miro for Work - Let's talk about how you're using Miro - everything from how to onboard your team to your favorite timer music.

Inspiration and Connection - Miro hacks, fancy use cases, inspiring discussions, creativity, networking, and more This is where you can introduce yourself.

 Events 
User-Led Events - Community events led by Miro users. Connect with and learn from other members of the Miro Community.
Miro-Led Events - Community events led by the Miro team.
 Announcements
 Product Help
Peer Support - Not sure how to do something in Miro? Try searching here.
Wish List - What do you wish you could do with Miro? Add your dream features and support other ideas by upvoting them.
Developer Platform and APIs
 Groups
Apart from the categories, we also have groups - separate spaces with a special characteristic (role, interest, or language). Come join us!