1. I'm new to Miro! Where should I start?
Welcome to Miro! Please check out this article: New to Miro? Check out these helpful resources.
2. I'm new to this community. Where should I start? 
Happy to have you a part of the Miro Online Community! The best way to get started is to first look at our Community Guidelines and then introduce yourself! Everyone is excited to meet you and give you a warm welcome 
3. Miro Community Forum: why should I be here?
We want you to be even more successful with Miro! It is so valuable to chat with peers from the same industry to validate ideas, share knowledge and expertise, give guidance and insight, connect and engage with each other. This is why we created the Miro Community Forum.
4. How to create a post?
 Remember to use the search first to see if your questions are already being discussed or if there is already a solution.
If there's no relevant thread yet, feel free to create a new topic. For this, just click the Create topic 

button next to your avatar

Choose what type of topic you're going to post. Decide if your topic is a conversation or idea. 
Create a short but descriptive title. 

It should summarize what your topic is about. This way other users can see directly if they are able to help you.

Describe what your topic is about. 

Describe your issue as detailed as possible. Other users can help you better when they know what you are trying to do (and where you do not get any further). 

Choose the relevant category to post your question/conversation.
You can also add images and videos to your question.
5. How to edit / delete my own post?
You can't delete community posts AND edit the post's title. If you need to delete your post or change the title, please reach out to @Marina via the community private messages.
If you made a mistake while writing your post (don't worry it happens 
), or if you simply want to add more information, then you can do this by following these steps:
Go to the post which you would like to change

Hover your mouse over the three dots on the right bottom corner

Click Edit:​​​​

6. Conversation / Idea. What to choose? 
When you create a new topic, you'll see the three different types of topics: 
Conversation
When you want to share your experience, best practices, or helpful resources, and involve the community in the discussion. Get your thoughts out and have other Miro users collaborate with you.
Idea
When you want to add your Miro dream feature to the community Wish List.
7. How to embed a Miro board?
All you need to do is to choose Embed media under the three-dots menu and paste the Miro board URL. Make sure to accept cookies to be able to embed the board, and change the board share settings to "View Only".
 Check your board's Start view as it defines the board preview in the embed. You can set the start view by right-clicking on a blank space on the board and choosing the corresponding option.
 Please do not share private information on the board.
8. How to write a private message to other community members?
It's easy 
You can either hover over the community member's avatar and click an envelope icon: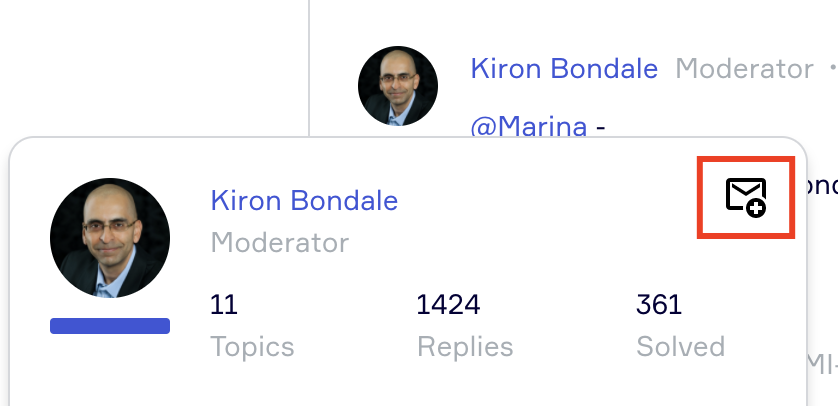 Or open the member's profile and click Send message next to their avatar: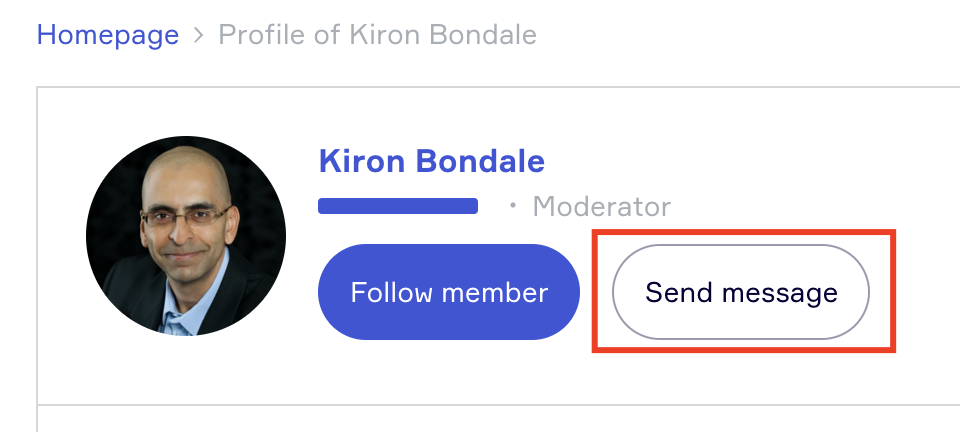 9. How to update my Community Profile and Settings?
 Note: You can't change your community username after registration. If you need to change it, please reach out to @Marina via the community private messages.
To get to the profile settings:
1. Click your avatar in the top-right corner
2. Choose My profile to access your profile
3. Click the button Edit profile
From there you'll be able to add your profile picture, job title, company, city, country, favourite Miro Feature, your forum signature, and your LinkedIn profile. Make sure you save changes. 
If you click on the link next to My profile you will see Settings. This is where you'll be able to adjust your notifications and other preferences: 
10. How to get notified about new topics in the category and new replies in the thread?
Each time when you start a new topic you will automatically be notified via email when that topic receives a reply. 
You can also subscribe to categories to make sure you don't miss out on any new topics added. Open the category and then you'll see a button that says Subscribe. To unsubscribe, you will need to just click the same button that will say Unsubscribe.
To subscribe to a particular topic within the category, you will need to click the star icon at the bottom of the post that says Subscribe. Once you click it will turn blue to let you know that you are now subscribed. To unsubscribe you'll just click that same Subscribe button, and it will then turn grey to let you know that you are no longer subscribed.
 ​​​​​​
​
You can change any of these notification settings in the Community Settings. 
11. Do I need to contact the Support team or ask the community?
Please check out this article: Do I need to contact the Miro Support team or ask the community?
Haven't found a reply to your question? Please reach out to @Marina directly