Hi everyone 

Every Monday we tell you about all the amazing templates we publish on Miroverse 
We would now love to introduce the creators behind all the work 
This week I talked to @DWestgarth, the creator of Star Wars Sith Lord Retrospective, Star Wars Jedi Master Retrospective, NBA Retrospective and more, and asked him about his Miroverse story, template inspirations, and his future template plans 
 How did you get into Miroverse? 
I got my first look at Miroverse taking part in the Miro Retrospective template challenge. I was blown away by the number and variety of templates available there as previously I'd used Miro exclusively for retro templates but now find myself looking at everything from org structures to UX assets and tonnes of agile event resources!

It's really helped me diversify the tasks and templates I create on Miro and it's also a great resource to get my creative hat on and start putting together engaging and useful content for my org and teams.
 Why Retro templates? What inspires you when you choose particular topics like Star Wars, for example?
I was looking for a way to get more engagement in retros that are now being done remotely and after seeing other agile practitioners show their themed retros I thought I would give it a try. I started off covering mainly sports themed retros but have started branching out into other areas more recently.

I'll find myself sitting watching something on Netflix or reading something online and thinking about how I could build a retro around it. I'm hoping to keep on moving through different themes and building up a collection that will be useful to my teams and the wider community.
 What is your favorite template? What's the story behind it?
From the templates I've submitted my Star Wars Jedi Master retro is probably my favourite as there are a couple of other pieces in the retro that seem to generate good levels of engagement and keep the sessions light, fun and conversational.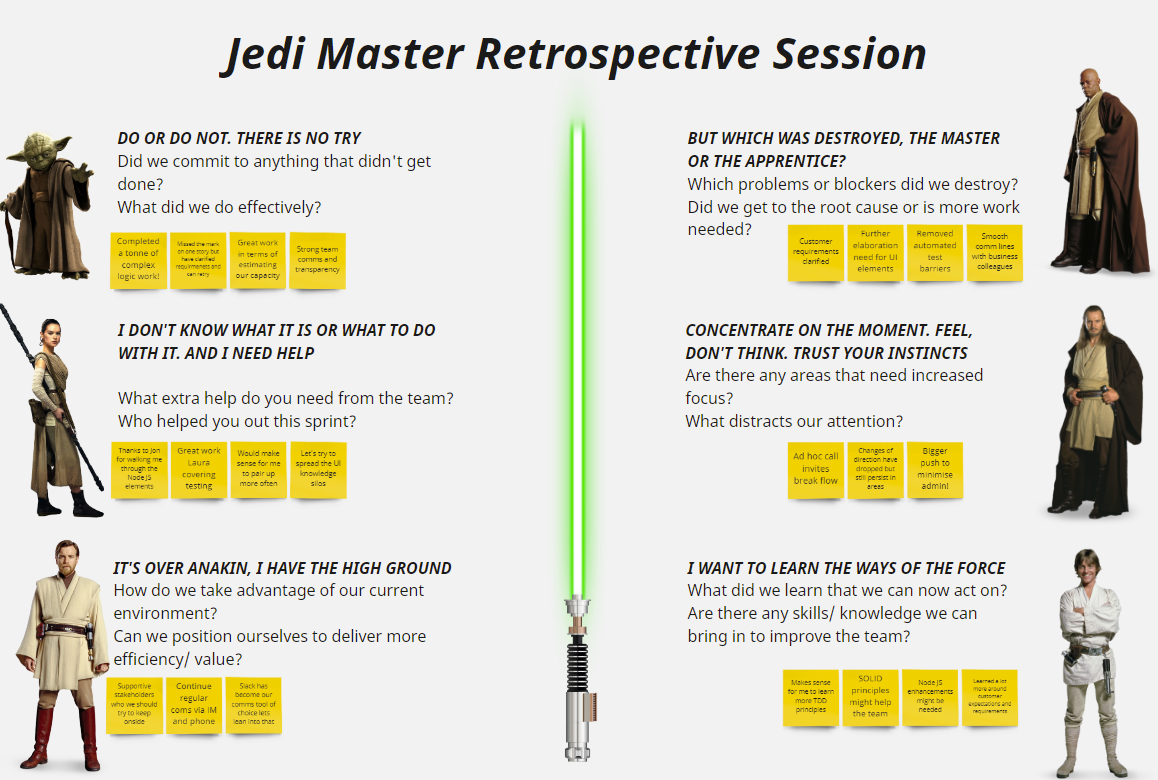 What are your template plans?
I'm looking to keep on producing retro templates and add additional features/ assets while also hopefully experimenting with different formats and flows for the session. Also I've really enjoyed working on the collaborative retro templates I've done with other agile practitioners and have one in the works with retro masterminds @Steven Sampson-Jones and @Chris Stone so please watch this space!
If anyone out there has any suggestions or ideas for further retros please get in touch. Very happy to see what I can come up with and really enjoy teaming up for template creations with other Miro creators.

Also very keen to hear what people find useful outside of the retro space in the Miroverse as I'd love to continue experimenting in different formats and keep on creating   
Thank you @DWestgarth for sharing your story 
Tell us what you think in the comments, share your own template stories and inspirations, and reach out to @DWestgarth for potential template collaborations